Firework Fashion: Stars Get Patriotic In Red, White And Blue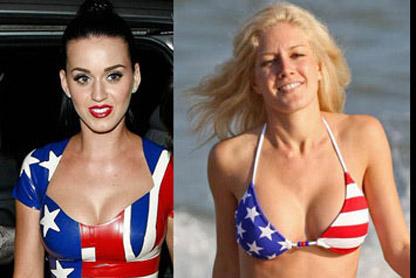 Happy 4th of July weekend! What better way to get into the patriotic spirit, then to take a look back our favorite red, white and blue celeb fashions over the years?
Who can forget Heidi Montag, frolicking around the beaches of Malibu, California with then-love Spencer Pratt, wearing an attention-grabbing stars and stripes bikini.
In a splashy photo shoot, The Hills star definitely showed support for her country---and her new assets, which have been further enhanced since those glory days with her reality show lover!
Article continues below advertisement
Anna Faris' hubby Chris Pratt also paid a swimsuit salute to the USA during their wedding weekend in Maui last year, rocking skintight trunks, which definitely had beachgoers humming the Star Spangled Banner.
Katy Perry clearly supports her homeland---and that of her future hubby Russell Brand. The sassy songstress recently stepped out in a latex mini, which was half stars and stripes and half Union Jack!
Meryl Streep and Reba McEntire have both waved their flags on the red carpet, while Jessica Simpson and Ke$ha have gotten their message across with vintage t-shirts.
For more fun and funky 4th of July fashions, and RadarOnline.com's last minute must-haves for this holiday weekend, check out the galleries in
Style!