FaceLift In A Bag?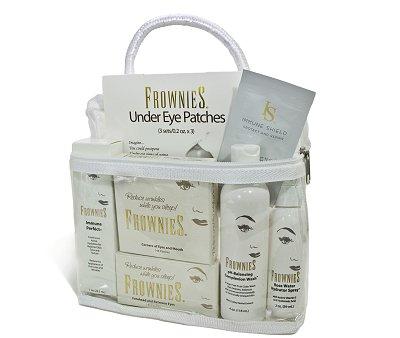 "Fight wrinkles while you sleep with the Frownies' ' Facelift In A Bag.' " That's according to the company, which promise that their multi product kit offers everything you need to get rid of frown lines, crow's feet and wrinkles on the corners of mouth, leaving you with smooth glowing skin all while you sleep.
Available at www.frownies.com for $128.47, this thorough package comes with a multitude of products to combat any skin ailment. The wrinkle patches contain exotic but natural ingredients such as cactus collagen bear berry, aloe vera and multivitamins including E, C, and B3. Applied with rosewater before bed (also included in the facelift kit) the patches promise to smooth out wrinkles while you sleep .
Article continues below advertisement
Patches for the forehead, mouth and eyes are all included in a nifty transparent pouch along with PH Balancing Complexion Wash to cleanse and balance skin while the Immune Perfect moisturizer provides continuous moisture. Said to be ideal for after micro-dermabrasion or chemical peals, the kit also includes a sample of their Immune Shield serum, which promises to protect your skin, repair cellular damage and promote healing.
As we all know, environmental or hormonal stresses can dull the skin and lead to premature aging.
We can't promise The Frownies Facelift In A Bag works, but heck , it's worth a try.