Exclusive
EXCLUSIVE: Vienna Says 'Cheating' Emails Were Fake, Threatens To Sue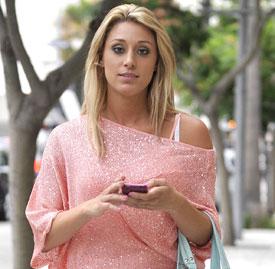 A flurry of sexually charged emails that seemed to prove Vienna Girardi was having an affair with her ex-boyfriend were fake -- and have left her furious, RadarOnline.com has learned exclusively.
The emails surfaced Thursday on the internet and indicated that Vienna and her ex, Brian Lee Smith, were still in a sexual relationship while she was with The Bachelor, Jake Pavelka. RadarOnline.com did not publish the fake emails.
Article continues below advertisement
One problem: Vienna not only says they were fake, but she's threatened to sue over them.
A source close to Vienna says someone close to her – and she knows who – hacked into her computer because her password is well known by those around her.
One of the fake emails from Vienna to Brian Lee reads "You are my life. I love you so much and can't wait to be in your arms again."
But that couldn't be farther from the truth.
RadarOnline.com was first to report that Brian Lee was charged with harassing Vienna in 2009 and the reality star hadn't talked to him since.
According to the police report obtained by RadarOnline.com, Smith was at Vienna's parent's front door around 4 a.m. on October 10, 2009, and when he wouldn't leave, police were called.
When officers arrived on the scene Brian Lee Smith ignored their instructions.
Article continues below advertisement