Exclusive Video Blog: Nikki & Rich: The Next Best Thing?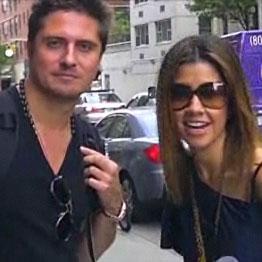 Pop-soul newcomers Nikki & Rich are bringing us a little of Everything, this summer. Harkening back to the sound of classic '60s girl groups, hip-hop with some R&B thrown in, the beautiful duo took our camera with them as they tour N.Y, visit Billboard Music, and goof around as they get pretty for the Elle Magazine cameras.
Nikki Leonti and Rich Velonskis knock out their first single, Next Best Thing, for us live, a high-stepping irresistible number that will have you humming the chorus before you know it.
Article continues below advertisement
Even though Cat & Mouse is doo-wop inspired and most of the tunes sound like throwbacks to an earlier age, it is definitely a contemporary sounding record:" "We didn't want to make a tribute record to past artists and have it sound like something that came out 40 years ago," Velonskis says. "We wanted to take the spirit and greatness of those times and bring them into the present day."
To the disappointment of many of their fans, the two-some is not an actual couple; they just play one for our video camera.