Exclusive
EXCLUSIVE: Rev. Jesse Jackson Says Mel Gibson 'Has Fundamental Character Flaw'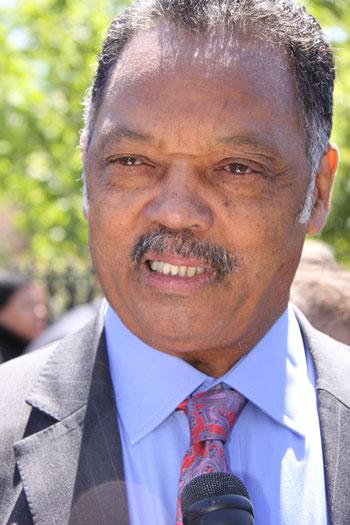 In an exclusive statement to RadarOnline.com, Reverend Jesse Jackson slammed Mel Gibson's racist rant.
"Mel Gibson's outburst demonstrates once again that we are far from a society that is 'beyond race and racism.' His penchants for anti-Semitic and racist diatribes reveal the actor's fundamental character flaw. He needs help. But as a society we must redouble our efforts to combat racism and eradicate racial inequalities wherever they may exist," said Reverend Jackson.
Article continues below advertisement
RadarOnline.com broke the world exclusive story that Mel Gibson unleashed a racist tirade against Oksana, the mother of his infant daughter Lucia. "You're an embarrassment to me," Mel tells her in an audio recording. "You look like a f***ing pig in heat, and if you get raped by a pack of n***ers, it will be your fault."
Following his 2006 arrest for suspicion of drunk driving, Mel spewed bizarre anti-Semitic remarks to the cops.
MORE ON:
Celebrity Justice
"F**king Jews... The Jews are responsible for all the wars in the world," Mel said.
He also allegedly told a female officer, "What do you think you're looking at, sugar t*ts?"
Mel apologized after the remarks sparked worldwide outrage for the actor.
EXCLUSIVE: Mel Gibson Plans To Honor Child Support, Says His Attorney
Oksana told a source she taped Mel because she feared for her life. On tape he says: "I am going to come and burn the f**king house down... but you will blow me first."