Exclusive
EXCLUSIVE: Rachel Uchitel Undergoing Treatment For Alcohol Problem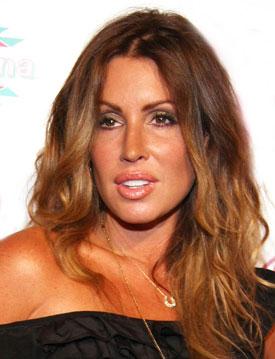 It's not just an addiction to Ambien that sent Rachel Uchitel to Dr. Drew's Celebrity Rehab on VH1 -- she's also got a problem with alcohol, RadarOnline.com has exclusively learned.
"Rachel is dealing with addiction issues with not only pills, but alcohol," a well-placed source told us exclusively.
BIKINI PHOTOS: Rachel Uchitel Shows Her Bod Before Rehab
Tiger Woods' highest-profile mistress is also learning to cope with "intimacy issues relating to love and sex," the show insider revealed to RadarOnline.com.
Article continues below advertisement
As we were first to reveal, Uchitel is hooked on Ambien -- the prescription sleeping pill she used to enhance sex with Tiger.
But her problem with alcohol has never been revealed before and has been a well kept secret.
Some skeptics suggested Uchitel never really had a pill-popping problem.
"Not true," said the source.
Not surprising, given that Woods also allegedly got into the Ambien stash.
"Would it be possible for you to get us some more Ambien," Woods wrote to Uchitel in a November, 2009 email, obtained by RadarOnline.com.
"OK, but we need to talk about this," she responded.
"I don't know how to deal with us possibly being addicted to prescription meds."
There is no evidence that Woods is addicted to any medication. But that's not the case with Uchitel, who received a nearly $10 million payoff from the golfing legend after their affair was exposed.
Dished our insider, "The cast has been filming for a week now, and the stuff they are dealing with is absolutely going to stun viewers.
"The show isn't slated to premiere until October, but a push is being made to possibly move up the date because the material is riveting.
"One of the most amazing surprises will be Rachel Uchitel... she is completely surrendering to the treatment and she is completely open to facing her demons."