Exclusive
EXCLUSIVE PHOTOS: Vienna Family Photos Show A Distant Jake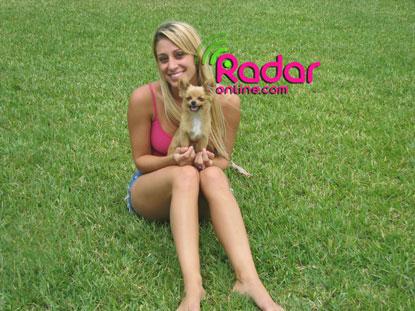 Vienna Girardi has ditched her reality TV fiance Jake Pavelka and knows there is one thing you can usually count on in tough times – family.
RadarOnline.com has obtained exclusive family photos of Vienna, her siblings, and her dog and it's very clear that Jake literally was in the background.
When Vienna brought Jake home to stay with her family, the couple caught a performance, but as you can see in one of the photos, Jake kept his distance.
Article continues below advertisement
Vienna's stepmom described the hunky pilot as "cold." Lisa Girardi told RadarOnline.com, "I don't think we knew him any better after he left. He didn't ask us a single thing about ourselves. He didn't talk about anything with us.
In one picture Vienna is holding her little dog Chloe and contrary to Jake's claims that "he spent a fortune trying to sort out Vienna's pooch problems," her stepmom told RadarOnline.com exclusively that her parents paid for all of the medical bills for the sick dog.
Vienna started a new job on Monday in Los Angeles and RadarOnline.com exclusively reported that she will be working with a company called Biolustre, which has a product line that helps with hair restoration.
The company has a charitable foundation called the Heart of Biolustre Foundation, which provides free treatments to cancer patients around the country.