Exclusive
EXCLUSIVE: Lindsay Lohan Jail Time To Be Slashed EVEN MORE, Says Lawyer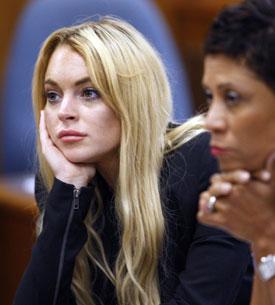 Lindsay Lohan likely will be getting out of jail sooner than the projected early August date, her lawyer told RadarOnline.com.
"It's our hope and expectation that Ms. Lohan will get additional time credit from her earlier times in custody and that would reduce her time in jail," Lohan's powerhouse attorney Shawn Chapman Holley said.
Previously, Lindsay was expected to be released around August 1 or August 2, which means she would have served 14 days of her 90-day sentence.
Article continues below advertisement
Judge Marsha Revel will decide how much time credit Lohan will receive and then send a minute order over to the Los Angeles Sheriff's Department with that information. Holley added, "I will be giving that information to Judge Revel very soon."
Holley also revealed that her young client is getting a handle on the situation: "Lindsay is adjusting very well, given the circumstances."
On Wednesday, Lindsay got emotional during a visit from her mom Dina and sister Ali. "Tears were shed," a source told RadarOnline.com. "The visit was very emotional, but Lindsay's spirits were lifted when she saw her mom and sister."