Exclusive
EXCLUSIVE: Levi Johnston's Music Video Shoot Will Be G-Rated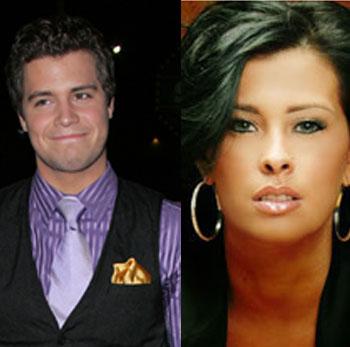 Sarah Palin can breathe a sigh of relief. Levi Johnston's upcoming video shoot for musician Brittani Senser may be about two young lovers, but the storyline will keep things sweet and innocent.
"There's not going to be any nudity, no kissing. I'm sure there's going to be some affectionate stuff. But nothing over the top, nothing X-rated, nothing Playgirl. Nothing like that," Senser told RadarOnline.com exclusively. The video is based on Senser's R&B-pop music tune "After Love" and the concept for the shoot is a young couple's romance being thwarted by the girl's disapproving mother. In real life, Sarah Palin has voiced her wariness about Levi and her daughter Bristol's renewed plans to wed.
Article continues below advertisement
While art seems to be imitating life, Senser says the storyline would be the same even if Levi had not been cast and was not meant to capitalize on the current Palin family drama. "I'm sure that Sarah Palin's going to feel like it's a little bit of a low blow to her, you know, but to be honest even if Levi wasn't in the video it probably would still be the same storyline. So I mean, she can take it for what it is. That's definitely not what I'm trying to do, if that's the reason Levi got on board in the first place that's his own reasoning. I'm sure it might hurt a little bit, but that's really not our intention or my intention."
Senser did reveal that Levi's presence in the tabloids did pique the production's interest. "As a collaborative effort, the people that I work with had decided that they wanted to use Levi. We had decided to use him before we heard the news he was getting engaged to Bristol. For whatever reason, people seem to be interested in what this kid does, whether it's Playgirl or whatever he did, and I thought that would kind of be a cool angle to use him. We thought he'd be great for the video and he's not bad looking, so why not?"
The shoot is set to occur around August 9 in Los Angeles "in a house in the hills and on the streets" rather than in a studio. The video is slated to premiere two or three weeks after the shoot is done.
As for Bristol, Brittani was sensitive to the couple's rekindled romance: "I've passed on an invitation. I want her to feel as comfortable as possible with it. It is acting and it is a music video and not real life. So I've completely passed on the invitation. I hope she feels like she wants to come out and be a part of it and be there and watch it. I hope she feels as comfortable as possible because we're not trying to make anybody look bad, we're not trying to hurt anybody in any sort of way."