EXCLUSIVE: Jesse James Partied On The 4th With His Kids; Set Off Fireworks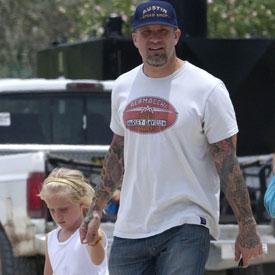 Jesse James is moving to Austin, Texas but not before leaving California with a bang!
The West Coast Choppers founder lit up Sunset Beach on the 4th of July with an elaborate fireworks display RadarOnline.com has exclusively learned.
"Jesse had a party at his house with about 15 friends, including all three of his children," an eyewitness told RadarOnline.com.
"Every year Jesse does the July 4th fireworks display for the town because he's the only one with a permit that can do it legally."
Article continues below advertisement
According to the source, there were about 40 people on the beach watching the fireworks display and Jesse's daughter Sunny was overheard bragging to a party-goer about how great her new house in Texas is.
"I heard Sunny talking about how excited she was to move to Texas," the source told RadarOnline.com. "She said they had the best house in town with a treehouse and a zip line."
Even though Jesse went through a nasty divorce this year with ex-wife Sandra Bullock when his extramarital affairs went public, he hasn't lost his bad boy attitude -- he let his son, Jesse Jr., light fireworks illegally claims the source.
"The Sunset Beach Fire Department came to watch Jesse put out the fireworks fire pit around 10:10pm.," the source said. "But about 10 minutes after they left Jesse let his son and his son's friend illegally light more fireworks."