Exclusive
EXCLUSIVE INTERVIEW: Vienna - "I'm Moving On With My Life"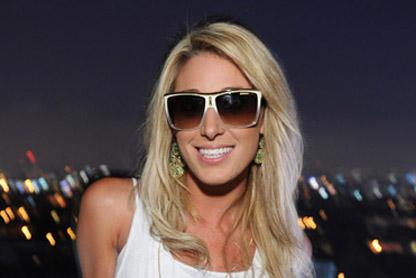 Taking advantage of the balmy summer night and her newly single status, Vienna Girardi hit the town on Saturday night in Hollywood and told RadarOnline.com that she isn't dwelling on her breakup with Jake Pavelka.
"I"m moving on with my life and I'm not looking back," Vienna told RadarOnline.com exclusively at the Carrera Sunglasses Escape event at the Chateau Marmont. With a positive attitude Vienna said "I'm really excited about just living on my own and being happy again. "
Article continues below advertisement
Surrounded by friends, and other celebrities like Nicole Richie, Vienna looked pretty in a white tank top and skinny black jeans. "It's great to be out with my girlfriends hanging out. We all have so much fun," she said.
Gone were the tears she shed on the Bachelor reunion with Jake. She told RadarOnline.com that she is much happier since the breakup. "I'm happy to have my smile back, it's been a long time and I'm really ready to live my life again."
RadarOnline.com broke the news of Vienna's new marketing job at Biolustre and she was enthusiastic about the opportunity. "It's fantastic, I'm really enjoying everything I get to do."