Exclusive
EXCLUSIVE INTERVIEW: Kathy Hilton: 'I Have Sympathy For Dina Lohan'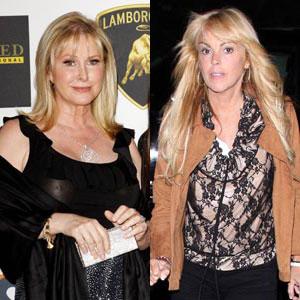 While Lindsay Lohan's legal team tries to wrangle her release from Lynwood Correctional Facility near Los Angeles, one woman knows exactly what Dina is going through -- the Hilton family matriarch.
Kathy Hilton endured the pain of her daughter Paris locked up in the same jail for 23 days in 2007 after she violated her probation on a reckless driving conviction.
And the Mean Girls star has openly sobbed whenever her mom Dina has visited her at the tough, all-women facility.
Article continues below advertisement
In a new interview, Kathy Hilton exclusively told RadarOnline.com: "I have sympathy for Dina Lohan right now, in fact, I feel bad for any parent whose child is in jail, it can be really tough.
"Those days when Paris was in jail were some of the most difficult of my life - it is hard for any parent to deal with.
"Unfortunately, if you do not follow the rules then this is what can happen - it's part of the rules of our society.
"I think Lindsay will learn from this experience though. To be in a small cage like that by yourself certainly gives you time to think about things.
"And for the parent on the outside it is very hard too."
Hilton was originally sentenced to 45 days for her offense while Lohan was given 90 days by Judge Marsha Revel for violating the terms of her probation – although she is only expected to spend 14 days in the slammer.
MORE ON:
Judge Marsha Revel
Article continues below advertisement
But RadarOnline.com has discovered that the 24-year-old actress will be released two days before the scheduled August 1 or August 2 date, getting credit for previous time in custody.
Her lawyer Shawn Chapman Holley – who visited her at Lynwood on Monday - submitted paperwork showing that her celebrity client was entitled to the two days credit.
And Team Lindsay is hoping that because of jail overcrowding she can get out of Lynwood even earlier.
Both the prison authorities and Sheriff's Department want the Lohan situation to be handled as smoothly as possible after they were roundly criticized for the way Paris Hilton was treated during her sentence.