Exclusive
EXCLUSIVE INTERVIEW: How Jeremy London & Wife Lost Legal Custody Of Their Son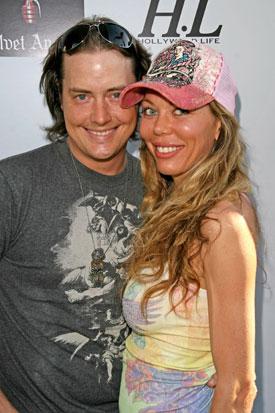 While Jeremy London and his wife Melissa recover in rehab -- both for prescription pill addictions -- Melissa's mother is speaking out for the first time about the couple's problems, including why they lost custody of their 3-year-old son.
Kayla Cunningham tells RadarOnline.com exclusively that she's had court-ordered custody of Jeremy and Melissa's son Lyrik for the last two years.
"I have primary custody," Kayla told RadarOnline.com. "Melissa and Jeremy have visitation but I have to be there to supervise."
Article continues below advertisement
Melissa, who is currently back in treatment after suffering two mini-strokes and a brain hemorrhage earlier this month, had been alternating from living with her mother and renting a house in Palm Springs.
It was during that time that Jeremy made headlines, claiming he was kidnapped at gunpoint and forced to smoke drugs near his home. One man is currently in custody.
Kayla confirmed to RadarOnline.com that she allowed Melissa to stay at her house so that she could see her son.
As RadarOnline.com reported, Melissa and Jeremy (who married in 2006) have filed divorce papers but never finalized the split. The court documents are packed with reports detailing domestic violence and drug use.
"I don't think either one of them would have willingly given up custody," Kayla said. "But in the end they both realized that having Lyrik live with me would give him the most stable life he could have."
Kayla said she has spoken to Melissa and Jeremy "a couple of times" since they entered rehab. Jeremy is currently shooting Celebrity Rehab 4, and he says it is not for addiction treatment, but for help continuing to stay off drug. Melissa is not on the show but is undergoing rehab in Pasadena, Calif.
"Right now, everything seems to be going well and they seem like they're moving in a forward direction," Kayla told RadarOline.com. "Hopefully they'll get their lives back in order so that they can step back in as parents."