Exclusive
EXCLUSIVE INTERVIEW: 'Bling Ring' Inmate's Mom Gives Lindsay Lohan Jail Advice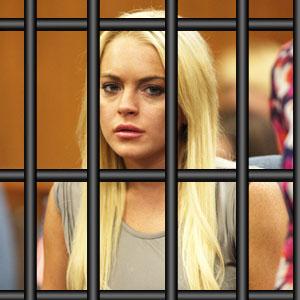 Lindsay Lohan spent her first day in jail on Tuesday and it's about as far removed from the Hollywood highlife that the Mean Girls star can get!
RadarOnline.com spoke to a mother of one of Lindsay's fellow inmates – a 19-year-old who burglarized Lindsay's home! – and she gave insight on what the actress can expect.
RadarOnline.com spoke to Andrea Arlington, the mother of 19-year old Alexis Niers, who is serving a 180-day sentence for burglarizing celebrity homes, including Lindsay's. Like Lohan, Alexis is in protective custody during her time at the Century Regional Detention Facility in Lynwood, California. Lindsay was taken to the facility on Tuesday morning after a short hearing in a Beverly Hills courtroom.
Article continues below advertisement
Lindsay Lohan -- See The New Mug Shot
"Alexis is in protective custody," Andrea said in an exclusive interview with RadarOnline.com. Alexis and her mother star in the reality show Pretty Wild. "Nobody is getting VIP treatment."
Andrea also revealed that her daughter, who was part of the infamous "Bling Ring," is aware of Lindsay's arrival at the jail. "Yes, I've spoken with her about that," she said.
The facility is a bleak-looking two-story building with 2,200 beds. For her own safety, Lindsay will be housed in isolation at the special needs unit. She will exchange her designer duds for the standard jail-issued orange jumpsuit and surrender any jewelry. But the hardest part for Lindsay may be that she'll have to leave Twitter behind for her duration behind bars—cell phones and computers are also not allowed inside. All inmates, including Lindsay, are also given basic toiletries like a toothbrush, toothpaste, soap, comb, deodorant, shampoo and shaving implements.
Article continues below advertisement
"My daughter told me the first time she called from jail that I had to get there no later than 6 in the morning. You have to get up at 4:00 AM and get in line by 5:30 AM if you want to be able to see your inmate before somebody else sees them. You sit there for three hours because visiting hours don't start until 8:30AM. There are people who sleep on cots outside the jail waiting to see their inmate," Andrea said about the reality now facing the Lohan brood. Andrea expects her daughter to be released on August 4th, which is 25% of her sentence. Lohan is expected to serve a comparable percentage of her ninety-day sentence, which would mean she would serve approximately 23 days.
Andrea sympathized with Lindsay and other inmates in the jail: "Oh my God, it's brutal on these people, I feel so sorry for the people of the families that are there. I feel sorry for the people that are there. The statistics say that it's 20 – 30% of the inmates in prison are innocent and I could definitely say why after listening to the stories in the lines."
The Bling Ring robbed celebrity homes and stole approximately $3 million in art, cash, jewelry and toher valuables, according to authorities.