Exclusive
EXCLUSIVE: Frank To Face Ali On Bachelorette Special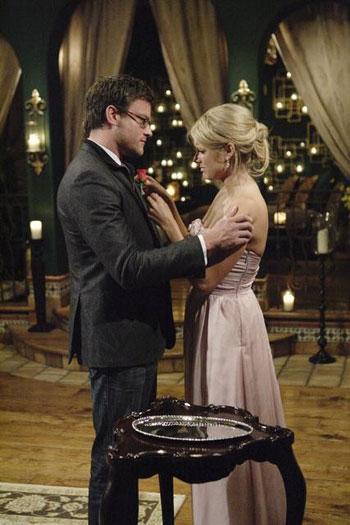 As viewers grapple with Frank Neuschaefer's dramatic exit on Monday night's episode of The Bachelorette, RadarOnline.com has learned that the heartbreaker is expected to return to the show for more reality television fireworks.
VIDEO: Bachelorette Ali Sobs After Getting Duped By Frank, Dumped In Tahiti
"Frank has been asked to be on After The Final Rose," a fellow contestant told RadarOnline.com. The special episode airs after the season's finale and Ali's ultimate decision of which man will be the last suitor standing.
Article continues below advertisement
Frank, who was one of the final three men, left the show after confessing to Ali that he still had feelings for an ex-girlfriend. He told Ali he met with his ex in Chicago right before he flew to Tahiti to join Ali.
An aspiring screenwriter, Frank has been criticized for joining the show only to get a foot into the entertainment world. However, RadarOnline.com's source says that is untrue and that Frank's intention was to fall in love.
"If he does go on the special, it won't be for fame but to stick up for his name," the contestant added. "The viewers have a different view of Frank then who he really is. He is a nice, level-headed guy.
"We all thought Ali would have chosen Frank- we could all tell that she was in love with him. The way she looked at him and talked to him, it was obvious"
In fact, Frank's hesitation seemed to be what stoked Ali's attention and affection.
"Everyone was jumping through hoops trying to impress her but Frank kept cool and told her he was being careful," the source said. "The more he pulled away the more time she wanted with him."
While Frank's last-minute departure may paint him as a villain to viewers, he went into the situation trying to do the right thing for all parties involved.
"I think he truly was falling in love with her, but he had unfinished thoughts about his ex-girlfriend. I believe he made a mature decision to go see his ex-girlfriend and it looks like he made the right one."