EXCLUSIVE: Dina Lohan Meets With Lindsay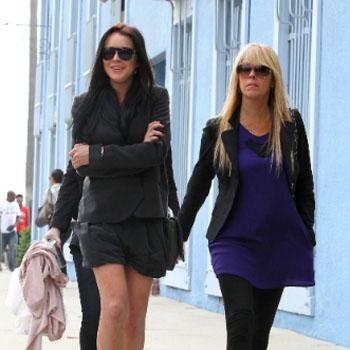 Dina Lohan flew to Los Angeles from New York and immediately met with her daughter Lindsay on Wednesday afternoon, RadarOnline.com has learned exclusively.
Dina, who was not present at court on Tuesday when her daughter was sentenced to 90 days in jail followed by another 90 days in rehab for violating her probation, wasted no time consoling a devastated Lindsay.
"She came out to LA to support her daughter," a source close to the situation told RadarOnline.com exclusively. "Like any mother, she's very concerned. She went straight to Lindsay and she's with her now."
Article continues below advertisement
As RadarOnline.com reported, both Ali Lohan, 16, and father Michael were in court Tuesday to support Lindsay as she faced the judge in her probation violation hearing. Following Judge Marsha Revel's sentence, an eyewitness says Ali burst into tears and was inconsolable. When Michael tried to approach her, she told a friend sitting next to her to tell him to get away from her.
On Wednesday, Michael told RadarOnline.com that he was determined to meet with Dina in Los Angeles to discuss Lindsay's fate. A source says Team Lindsay is trying to get her into rehab right away instead of doing jail time.
"I'm going to try and sit down with Dina and Lindsay and figure this out," Michael told RadarOnline.com. "I'm glad Dina is here in LA to support Lindsay."