DVD Review: The Runaways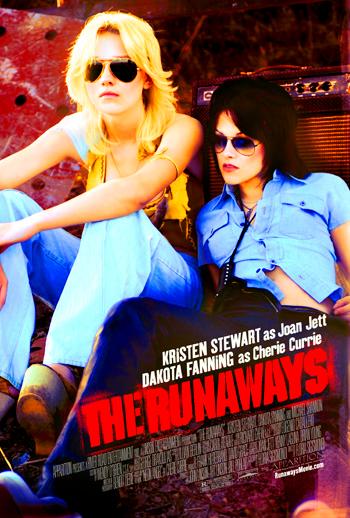 It's 1975. Hair is big, love is free, and the only people making rock'n'roll are the guys. Until, that is, The Runaways.
Kristen Stewart stars as Joan Jett, the ambitious, bi-sexual band leader in this impressionistic take on the all-girl group. The Runaways chronicles the band's meteoric rise to fame, as well as their free-fall when lead singer and resident bombshell Cherie Curry (Dakota Fanning) abruptly dropped out. Based on Curry's memoir, the film is less formal biopic than free-form, full-throttle ride through the girls' raw, booze-soaked world of the late 1970s.
Article continues below advertisement
In this wild trip, we get to see K-Stew rocking out while Cherie sheds her innocence in a major way. But apart from brief moments of background -- Cherie's dad is a drunk, Joan has lived on the streets and everyone is mad as hell -- The Runaways doesn't create strong moorings for its characters. We get that Joan is whip-smart and all about the music, and that colorful manager Kim Fowley (Michael Shannon), is a shrewd marketer willing to exploit -- long before Disney's manufacture of underage mega-stars. The rest is filled in with raucous performances, trippy party scenes and a lot of pill-popping.
Their dialogue, meanwhile, from first-time writer/director Floria Sigismondi, is just passable, with brief flashes of brilliance. The only one who lets it rip is Fowley, who delivers the raunchiest speeches of the movie and lets us know, in his words, that he's selling sex -- not women's lib. K-Stew, meanwhile, mostly succeeds in not being Bella, but her lines don't give her a lot to work with beyond the snarling, the smoking, and the oh-so-sexy scenes with Dakota. In the DVD extras, Stewart dishes on her hope to honor Jett, describing her as "the coolest person" she's ever met -- and that earnestness shows.
Article continues below advertisement
Jett, who executive-produced The Runaways, offers her take on the finished product during DVD commentary with Dakota and K-Stew. With one-liners in her signature, husky voice, the rock legend gives her two cents in the kind of perfect stanzas that made her a star. During a particularly steamy moment when Cherie and on-screen Joan get hot-and-heavy, real-life Jett asks, "How do you comment on that?," adding, "It speaks for itself. You'll have to go somewhere else for your jollies, because I've got nothing to say."
With that, the star says it all: The Runaways, while far from perfect, portrays a group of girls who changed the game and weren't afraid to get rowdy -- bra and high heels be damned.