Dressed For Success? Best And Worst Thursday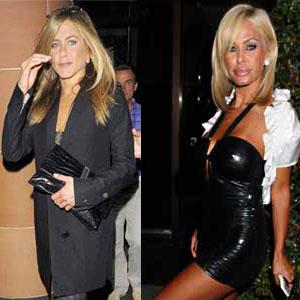 It was a busy day for our famous friends, as they popped up on our RadarOnline.com across the globe promoting their latest ventures. Jennifer Aniston, who launched her new fragrance Lolavie in London, stepped out to a work dinner looking strikingly sophisticated, jazzing up her timeless threads with attention-grabbing accessories.
In Beverly Hills, Lorenzo Lamas' ex-wife Shauna Sand enjoyed a business dinner with mega-publicist Elliot Mintz, not exactly dressed in professional duds. Wearing a super tight and revealing latex dress with her signature Lucite heels, the blonde definitely stuck out at the super posh Mr. Chow.
Article continues below advertisement
Selena Gomez was dressed for success at Fox Studios in NYC, wearing a pale pastel short suit, promoting Ramona and Beezus, while Jada Pinkett Smith added a blast of color to the Madrid premiere of The Karate Kid wearing a simply chic t-shirt dress. After missing the Season 4 premiere of Mad Men, January Jones made a "professional" appearance at ABC Studios, wearing an over-the-top lace blouse with skinny jeans and ballet flats. The disappointing duds did nothing to make up for her absence on the red carpet the previous night.
What funny man when dumpster diving in NYC, all in the honor of David Letterman? Check out the gallery in Style to find out.