Cherry Blossom Girls: Stars Love Moschino Spring 2010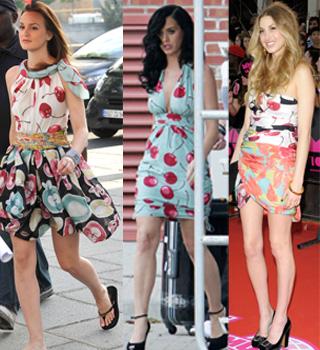 This season, stars are loving the Moschino Spring 2010 collection and we have to admit, we don't blame them! The color-happy, cherry-patterned frocks are the antithesis of the little black dress, and definitely grab attention in the best way possible. Katy Perry, Leighton Meester and Whitney Port have all rocked different looks from the collection. Which was our fave cherry-picked frock? Read on to find out...
Article continues below advertisement
Katy Perry was the first fruitful fashionista to pop up on our RadarOnline.com in one of the handpicked numbers. In Canada for the MuchMusic Awards last month, the pinup girl rocked a halter version, which was ruched on both sides. A few days later, The City star Whitney Port followed in her footsteps, walking the red carpet of the MuchMusic Awards in a silk strapless, which featured cherry blossoms and cherry print.
Leighton Meester was dressed on the set of Gossip Girl in Paris, France on Monday, wearing a gorgeous, bubble-hummed frock, which featured the cherry print in white and blue, as well as two other bright and cheery patterns.
What Moschino Spring 2010 frock did we like the most? Check out the gallery in Style and find out!