Canadian Wonder Twins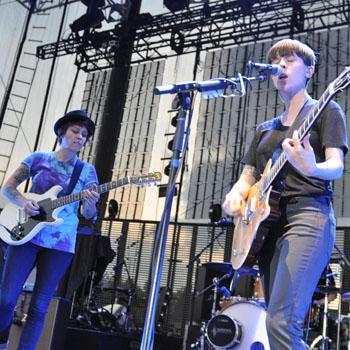 Canadian wonder twins Tegan & Sara have just kicked off a two-month US tour and there's a lot going on in their world, so let us bring you up to speed.
Next month, the gals release The Official Vinyl Collection Box Set, which is the definitive vinyl collection of the band's recordings, gathering five of their albums — 2000's This Business of Art, 2002's If It Was You, 2004's So Jealous, 2007's The Con, and 2009's Sainthood — and pairing them with a bonus record of nine demo tracks dating back to the recording of So Jealous.
Article continues below advertisement
The Sisters Quin also have two tracks on the 2010 Summer Tour EP, which also includes songs by Paramore, New Found Glory and Kadawatha, and is available on iTunes now and at Hot Topic stores on August 10th.
Of the upcoming shows, Sara says, "We have child-of-divorce syndrome, and we don't want anybody to be let down, so there's that sense of wanting to go out and show yourself and prove yourself."