BROADWAY REVIEW: Promises, Promises -- Mad Men At Warp Speed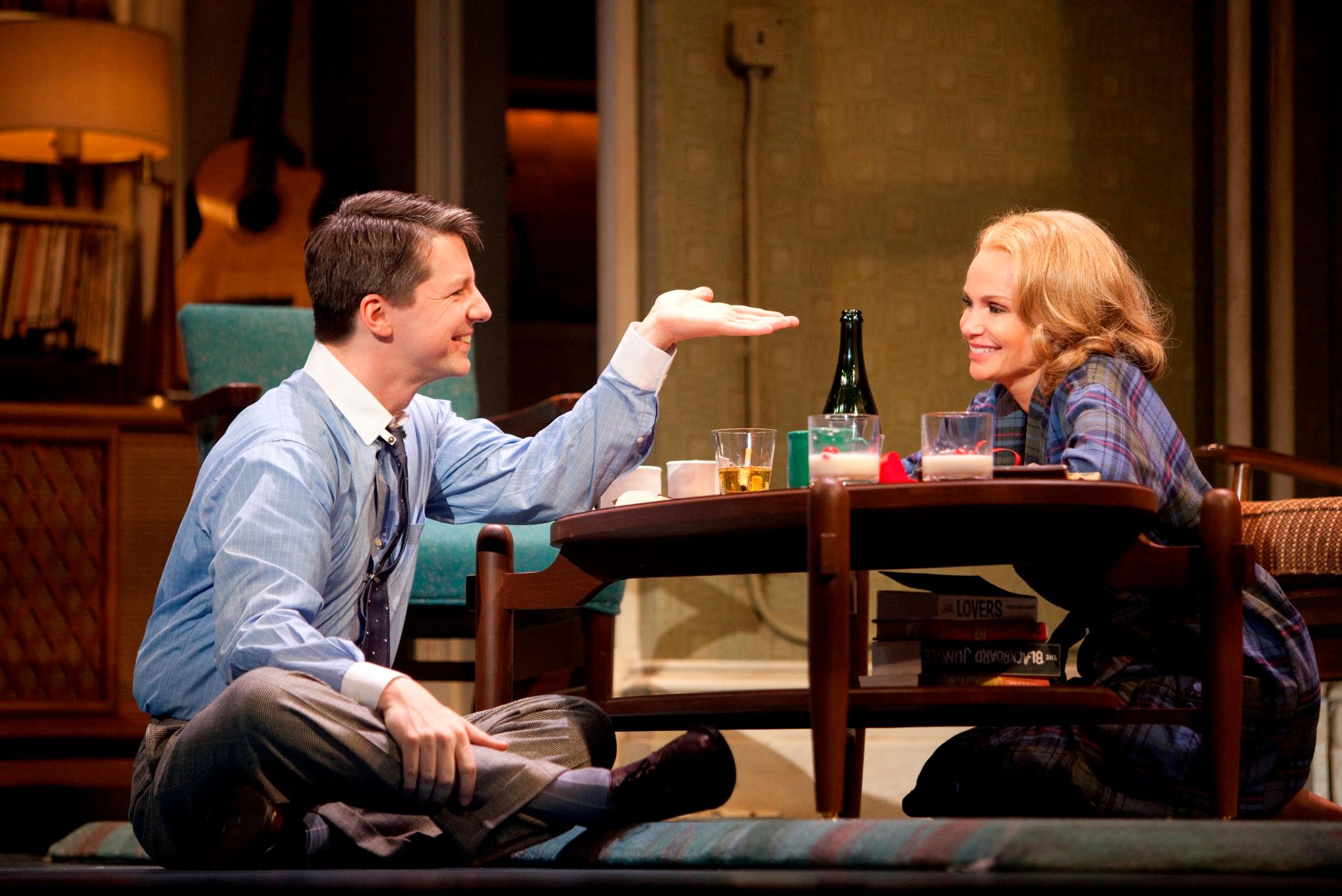 Watching the Broadway hit Promises, Promises is like seeing a hysterical musical version of Mad Men at warp speed.
First of all, it's important to mention that openly gay Sean Hayes pulls off the straight character Chuck Baxter brilliantly.
We are here to tell Newsweek -- You are wrong!
One of their reviewers wrote "frankly, it's weird seeing Hayes play straight."
In our opinion, it's refreshing to see Sean successfully play someone other than the flamboyant Will & Grace character Jack McFarland.
Article continues below advertisement
He's done what Megan Mullally failed to do. When she launched her talk show, audiences wanted to see Karen, not Megan. But in this Broadway hit, Sean isn't Jack—he's Chuck, and his fans are embracing the change.
He still has the charm of his typecast character, but flawlessly portrays a heterosexual fast-talking bumbling junior executive chasing Fran Kubelik (Kristin Chenoweth).
We like the fact that Sean was true to himself and his character and didn't try to overdo the role by being ultra-macho.
And who knew he could sing!
The sets change, different characters come and go, but for the first 40 minutes of the 2-hour revival, Sean is on stage acting, singing and dancing. Talk about a triple threat!
When you impress the concession stand employees, you know you're doing something right. Sean started the musical in April and does eight shows week; an employee told RadarOnline.com "he hasn't missed a show yet."
Article continues below advertisement
The show is set in Manhattan in the '60s. Men don tailored suits with handkerchiefs and women are sporting pencil skirts. Teal is an acceptable color for the floor tiles and the fashions.
It's based on the 1960 film The Apartment starring Jack Lemmon and Shirley MacLaine. Chuck Baxter is a hard working employee at Consolidated Life and has dreams of being an executive. When the married male execs find out that the single man has an apartment nearby—they start borrowing his key for their affairs, in exchange they promise, he'll get a promotion.
But it turns out his boss, played by Tony Goldwyn (a dead ringer for Don Draper), is cheating with cafeteria worker Fran Kubelik, who is also the object of Chuck's affection.
VIDEO: Glee's Matthew Morrison Strips In Broadway Bares
The music is infectious.
Think Mama Mia with famous ABBA sing-a-longs -- but this is Promises, Promises with Burt Bacharach hits. It's all now available for you to enjoy in a cast recording.
Article continues below advertisement
You will catch yourself singing along with some of the songs you'll recognize like I'll Never Fall In Love Again and the Dionne Warwick hit I Say A Little Prayer. The male executives have their fun knock-off on I Say A Little Prayer called Where Can I Take A Girl?
Kristin Chenoweth is one of Broadway's favorite sweethearts; her Glinda from Wicked is still an all-time favorite. She belts out A House Is Not A Home—a song that she also performed on Glee, where she plays a recurring character. When she's on stage singing, nothing else matters.
The show makes you feel uplifted and at the end of the musical, we believe you will feel that all promises were fulfilled.