BREAKING NEWS: Lindsay Lohan Arrives At Home In West Hollywood; Attorney Shawn Chapman Holley With Her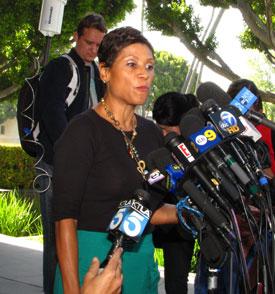 A short time ago, troubled actress Lindsay Lohan arrived at her home in West Hollywood, California and her on-again attorney Shawn Chapman Holley was with her. The pair are expected to leave at any moment now to make the trip to the Beverly Hills courthouse where Lindsay will surrender to authorities to begin serving her 90 day jail sentence.
The trip should take between 10 and 15 minutes.
For the past few days, Lindsay has been staying at Pickford Lofts, a sober living facility, founded by Robert Shapiro, the attorney of OJ Simpson fame, who briefly represented her after Chapman Holley abruptly quit Lindsay's case earlier this month.
Article continues below advertisement
The Mean Girls star, 24, was ordered earlier this month to show up in court at 8:30 a.m. PT on Tuesday, July 20 -- or face a bench warrant arrest -- to begin serving her 90 day jail sentence for violating conditions of her parole related to her 2007 DUI conviction.
Assuming she does not seek to appeal the judge's sentence, Lindsay will be taken into custody immediately and be taken to a women's detention facility in Lynwood, California, which is near Los Angeles. Due to overcrowding at the jail, she is expected to serve only a fraction of her 90 day sentence -- perhaps only 3 weeks.
MORE ON:
Shawn Chapman Holley
After her jail stint, Lindsay has been ordered to attend rehab for 90 days.
In a message posted on her Twitter Monday night , Lindsay seemed to joke about her upcoming court appearance, saying: "The only "bookings" that I'm familiar with are Disney Films, never thought that I'd be "booking" into Jail... Eeeks."
RadarOnline.com will live stream Lindsay's hearing as soon it it begins Tuesday morning.