Bristol Palin & Levi Johnston Engaged!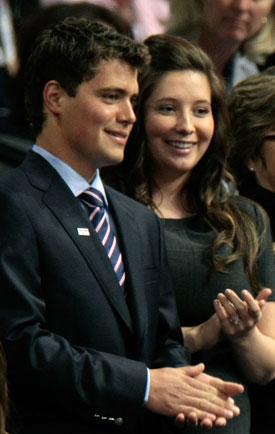 Poor Kathy Griffin. Her future baby daddy is off the market.
In a surprising move, Sarah Palin's daughter Bristol is engaged to her ex Levi Johnston, RadarOnline.com can report.
"We got engaged two weeks ago," Bristol, 19, tells the new issue of Us Weekly which first broke the story. "It felt right, even though we don't have the approval of our parents."
Bristol and Levi had been briefly engaged in the past, but called it off only two weeks after the birth of their son Tripp back in December of 2008.
Article continues below advertisement
And judging from Bristol's cyptic comments to the magazine, it looks like mom Sarah may not have known about the surprise engagement.
VIDEO: Levi Johnston Gives Kathy Griffin A Peek At His Playgirl Spread On My Life On The D List
"It is intimidating and scary just to think about what her reaction is going to be. Hopefully she will jump on board," Bristol told Us Weekly.
The couple says they reconnected three months ago while working out a custody plan for their 18-month-old son, Tripp.
"I really thought we were over," Levi, 20, says. "So when I went, I had no hope. I think we both just started talking - and then we took Tripp for a walk."
Bristol adds, "When he left that night, we didn't hug or kiss, but I was thinking how different it was. He texted me: 'I miss you. I love you. I want to be with you again'... I was in shock."
EXCLUSIVE INTERVIEW: Levi Slams Bristol's Campaign Against Teen Sex, "It's All A Show"
Article continues below advertisement
The couple told the magazine they want to get married as soon as possible. They have not yet set a date.
Bristol, whose teenage pregnancy became a controversial issue during the 2008 Presidential campaign, also told Us Weekly she is not pregnant right now and the couple is practicing abstinence until the wedding.
Since giving birth, Bristol has become an outspoken advocate for abstinence, urging teenagers to not have sex before marriage.
Sarah and Todd Palin released a statement to The Today Show Wednesday morning, reacting to the engagement, saying:
"Bristol at 19 is now a young adult. We obviously want what's best for our children. Bristol believes in redemption and forgiveness to a degree most of us struggle to put in practice in our daily lives."
Only two weeks ago, Levi issued a statement apologizing to the Palin family for any pain he had caused them by making any negative statements to the media about the family.