BEAU JOIE: Our Knight In Shining Armor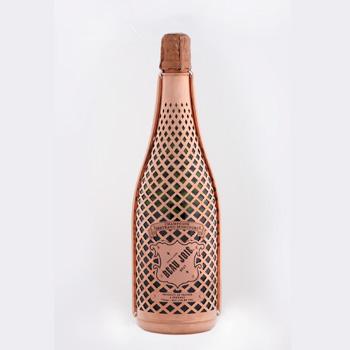 The brand-new BEAU JOIE champagne comes in a beautiful copper encasing that makes you want to keep it as a showpiece, but that would be shame because what's inside is even better. Made from the highest quality wine – 60 % Pinot Noir and 40 % Chardonnay – BEAU is naturally derived from the choice grapes of Epernay, France, and since it has none of the sugars normally added to champagnes, it bubbles with a just the right kind of crisp, light perfection.
Article continues below advertisement
Inspired by knights and royalty, it encourages consumers to "Own the Knight." Fittingly, Beau makes its debut in the city of angels, in its hand-crafted copper suit of armor, which, it should be noted is made from completely recyclable materials.
"The BEAU brand is about creativity, fashion, imagination, and rock & roll – all characteristics synonymous with Los Angeles as the entertainment capital of the world," said Brandis Deitelbaum, BEAU's Chief Marketing Officer and Co-Founder. "BEAU's sexiness is unmistakable and even though it's a classic French champagne, Los Angeles is truly the inspiration for the brand. "
And the armor isn't just to make it look pretty; the copper encasing was specifically designed to keep the champagne colder longer;
I found we didn't even need an ice bucket.
It also provides a good grip when opening and serving, while the bottle's rubber punt ensures enhanced stability when pouring.
For more info. Check out BEAU JOIE Suggested retail price is $79.99.