Beach Bunnies And A Wacky Robin: Best And Worst Monday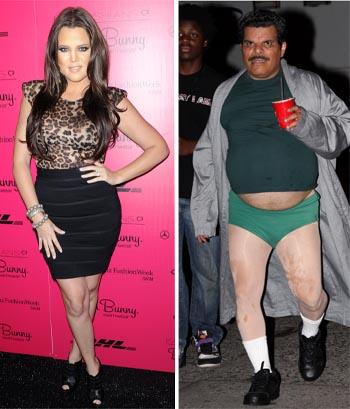 While the Kardashian's steamed up Mercedes-Benz Fashion Week in Miami showing off their covetable curves in sassy style, a full-bodied actor bared his belly in comedic fashion on the streets of NYC. Over the weekend, there wasn't a lack of sassy and wackiness, as stars hit the streets across the globe dressed to thrill and shrill!
Khloe Kardashian hit the Beach Bunny Fashion show with Kim and Kourtney in wildly wondrous style. Pairing a leopard tank with a black bandage skirt, the reality show star embraced her curvalicious bod. Also on hand to watch the scantily clad models strut their stuff in swimwear was the gorgeous Selena Gomez, who looked tres fab in a fuchsia one-shouldered frock.
Article continues below advertisement
Luis Guzman isn't afraid to show some skin. Wiling to go to any lengths for cinema, the actor stepped out in NYC wearing nude nylons with bright green panties, white athletic socks, black sneakers and a crop top. How's that for ab fab?
Nicky and Paris Hilton shopped til' they dropped in Sardinia in eye-catching summer color, while Ashley Jones was hautely hued in eggplant for 4th annual Enzoani Bridal Fashion show in Los Angeles.
What Single & Fabulous Bachelor star hit Vegas in 1990's duds? Check out the gallery in Style to find out.