Aphrodite Of The Dance Floor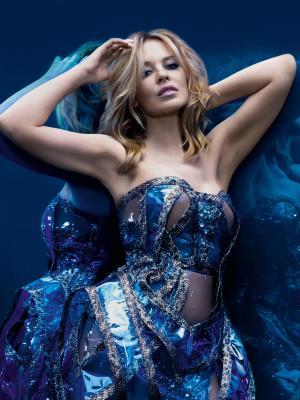 Kylie's back and ready to hit the dance floor! Ms. Minogue, now 42, has a new album—her eleventh to date—Aphrodite, aptly titled for an album all about the joys of falling in love.
That's right, the pint-sized Aussie diva has found love again and she wants to tell the world all about it on this unapologetic electro-pop album packed with lots of glitter n' glam! On the first single off the album, "All the Lovers", Kylie sings, "All the lovers/That have gone before/They don't compare to you" and after checking out her new beau—sexy Spanish underwear model Andres Velensco—we believe her.
Article continues below advertisement
And this time around, Kylie has got absolutely nothing to hide. With her last album, X, she was criticized for the light lyrical content after her battle with breast cancer. "This album is much more of a celebration than anything I've done before," says Kylie of Aphrodite, "with some room for reflection as well, which was good."
Produced by Stuart Price, the mastermind behind Madonna's Confessions on a Dance Floor and The Killers' Day & Age, with a co-writing credit to Scissor Sister Jake Shears, Kylie has put herself in the very best hands for that sexy, campy disco-pop vibe we love her for and it's apparent throughout.
"I feel like it's spreading joy," says Kylie. "Which is the best thing I could ever have wished for."