America The Beautiful, Mischa's Catwalk Flop: Best And Worst Thursday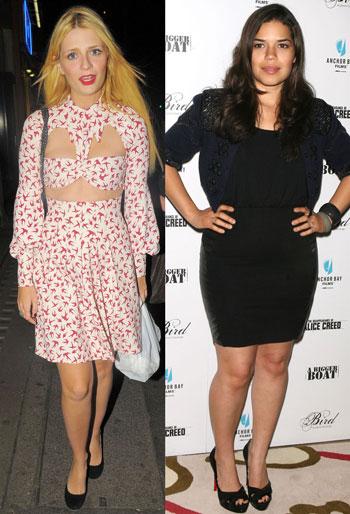 America Ferrera hit the NYC premiere of The Disappearance of Alice Creed on Wednesday night, looking super sophisticated in all black threads. The Ugly Betty actress rocked an embellished caplet over a form-fitting LBD, finishing the look off with Christian Louboutin patent leather peep-toes.
We were pretty shocked to see Mischa Barton walking down the street in a Miu Miu cutout mini, which wasn't exactly figure-flattering! The ex-Oc'er made the uber-expensive Spring 2010 runway frock look like a second-hand score!
Article continues below advertisement
Eva Longoria Paker looked glam in Gucci, while Nicole Kidman got pretty in Prada at the HFPA Annual Installation Luncheon in Beverly Hills. Brit Babe Gemma Arterton showed off her bombshell style in a constructed grey dress in NYC.
What funnyman didn't exactly dress like a Grownup, wearing swimming trunks on the red carpet? Check out the gallery in Style to find out.