A Game For The Pop Culture-Obsessed (Like You)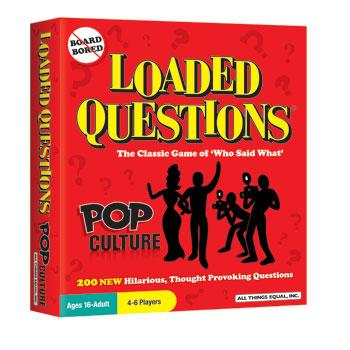 Everyone loves to debate what the best movie of the year is, what the funniest show on TV is, and who the hottest band of the day is.
Now there's a game that brings that passion together -- Loaded Questions Pop Culture, the popular version of the game that has sold more than a million copies, as this edition celebrates America's fascination with all things pop culture with 200 hilarious, thought-provoking questions.
Article continues below advertisement
Exclusive First Look : Justin Bierber Comic Book
The latest edition features new questions gauging personal opinions on movies, music, celebrities and television.
Who's the real deal: Lady Gaga or Ke$ha? Would you rather rub elbows with the Jersey Shore stars or keep up with the Kardashians? Was Avatar really worth the hype? These are the types of questions brought up in the game and any answer is right or wrong (depending on who you ask) and sure to spark a lively discussion.