Pre-Show Madness: The 64th Annual Tony Awards Gifting Lounge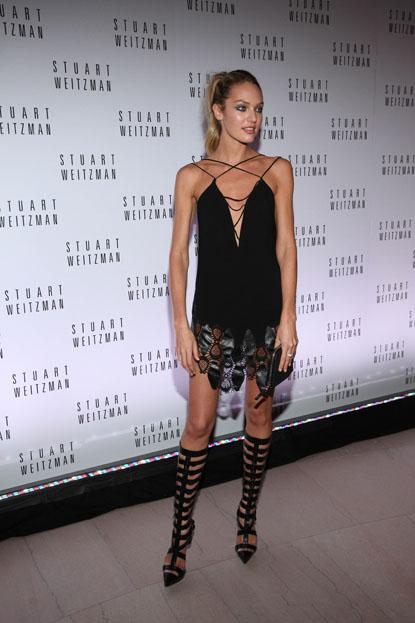 The gift lounge backstage at Radio City Music Hall in New York City before the 64th Annual Tony Awards was the place to see the stars. They collected some amazing swag at the On 3 Productions lounge and were given the opportunity to do some good along the way too. For every star that stopped by, LG Electronics USA pledged to donate an ultra energy efficient washer and dryer to a Broadway theater in the name of each visitor to the Lounge. When asked "Whose dirty laundry would you most like to wash?", Paula Abdul replied Simon Cowell, the evening's host Sean Hayes said President George W. Bush, members of Green Day revealed that Tre Cool has the dirtiest laundry in the band and Lend Me a Tenor star Justin Bartha said Zach Galifianakis took that title on the set of The Hangover!
Article continues below advertisement
Glee star (and stand out performer from last night's show) Lea Michele met Paula Abdul for the first time while receiving a special commemorative bottle of Columbia Crest, Wine Spectator's 2009 pick for the number one wine in the world. Other stars that stopped by included Lea's co-star Matthew Morrison, Sex and the City 2's Chris Noth, Rock of Ages star Constantine Maroulis and The Addams Family star Bebe Neuwirth.
Jewelry designer to the stars Sarah Chloe surprised everyone with custom pieces. Lea Michele was presented with a gold interlocking "LM" necklace and Scarlett Johansson received a personalized gold necklace with charms featuring her name and husband Ryan Reynolds.
Promises, Promises star Kristin Chenoweth and New York Jet (and boyfriend of Jaime Lynn Sigler) Mark Sanchez were treated to Crunch 1-Year Gym Membership & Private Training Session or Private Class for up to eight guests. Helen Mirren was too who said she was going to use it for yoga classes!
Other stars that stopped by included Antonio Banderas, Laura Bell Bundy, Nathan Lane, Laura Linney, Ricky Martin, Anthony LaPaglia, Bernadette Peters, David Hyde Pierce, Stanley Tucci, and Raquel Welch. Everyone was treated to the above mentioned goodies plus Starbucks Ice Cream, a one year supply of Altoids, a Lisa Chiccine Hair Care Collection and $500 Gift Certificate to the Lisa Chiccine Salon, NESPRESSO® CitiZ Range, featuring the sleek and slim CitiZ and CitiZ & Milk Single Serve Espresso Machines, Ultimate Ears by Logitech Custom Molded In-Ear Monitors Vera Bradley accessories and Marchon Diane Von Furstenberg Eyewear.