Exclusive
EXCLUSIVE: Michelle 'Bombshell' McGee's New Sex Pistol - Sid Vicious From San Diego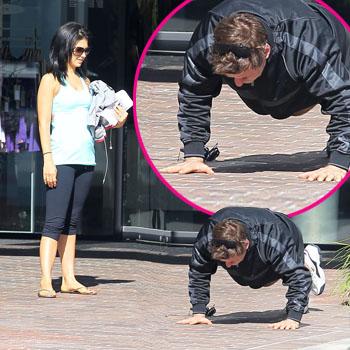 Michelle "Bombshell" McGee has moved on -- but it's clear she has a type! Jesse James' mistress has teamed up romantically with someone who calls himself Dee Jay Sid Vicious -- after the late and famous Sex Pistols bassist, who once provoked outrage by wearing a t-shirt emblazoned with a swastika.
But this Sid -- aka Sid Niesen from San Diego -- tells RadarOnline.com he is no racist!
According to Sid, he has fallen head over heels with Bombshell, the tattoo-loving and Nazi-admiring mistress who helped begin the end of Sandra Bullock's marriage to James thanks to a magazine tell-all.
Article continues below advertisement
"She has a swagger about her that stands out in a crowd," he told RadarOnline.com in an exclusive interview. "I work in the nightclub industry and they are all very cookie cutter to me - it's nice to meet someone that is not like everyone else."
Having posed for a Nazi-themed photo shoot, complete with swastika armband and death's head dagger, Bombshell has carved out her own look that has helped her strike lucrative endorsement deals - and meet new men, like Sid.
Sid described his romance with Bombshell as a "committed relationship" that began with a chance encounter at a nightclub in Oklahoma.
"I am a very genuine person," he told RadarOnline.com. "When you meet me you get what you see... I need someone that's not going to judge me for what I do and vice versa."
Which is another thing Bombshell knows about, although Vicious said the pair don't talk about James or Bullock.
Article continues below advertisement
He also declared, like him, his woman is not racist. "I would never ever in my entire life date someone that is a racist... everyone that I have in my life are all creeds and races," Sid said. "I think people that know Michelle know that she is not a racist."
And we had to ask: is he worried, given past form, that she could stray?
"I've never cheated in a relationship," he said, diplomatically.
EXCLUSIVE VIDEO INTERVIEW: Jesse James' Dad "Disgusted And Brokenhearted" By Abuse Allegations
"If I'm with someone that is worth my time than I'm going to mean to be in the relationship... If I want to be single, I'll be single... I've never been the guy that cheats."