Exclusive
EXCLUSIVE: Former Bachelorette Winner Dishes On Ali's Dates and Show Secrets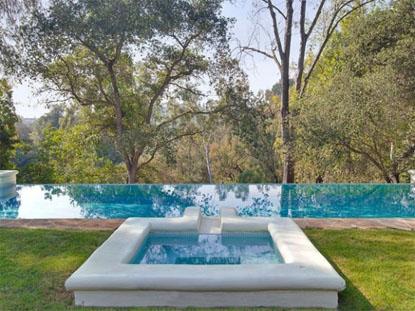 Jesse Csincsak, who was the last man standing during Deanna Pappas' run as ABC's The Bachelorette, weighed in on current leading lady Ali Fedotowsky's current slate of suitors, giving RadarOnline.com his insight on her latest dates and elimination decisions. He also reveals what goes on in the men's house when Ali isn't around.
"Is it me or should someone call American Idol? Good lord all of these guys are aspiring singers," Jesse joked about the slew of guitar-playing suitors this season. This week, Ali and the men left Los Angeles to begin their whirlwind world-travelling which began in New York.
Article continues below advertisement
"Once the guys leave the house it becomes pretty insane," Jesse told RadarOnline.com. "There is even more people involved with the production watching what you do at all times and the time on lock down is even longer. You can only watch so many movies and do so many pushups before you go insane. Even if you are traveling to a place that one of the guys used to live, it doesn't matter. They aren't gonna let you go anywhere near your house or your friends. It's lock down time. Robert from Bachelorette Season #4 Spent over 700 bucks just on movies and room service in one 3-day period... This shows how boring it can get."
Jesse also reveals the truth behind the sweet things the guys do for Ali -- including Chris L's delivery of soup and flowers to the ailing Bachelorette. "When the guys go on dates and always have flowers and gifts for Ali, it's all staged," he said. "The producers hand that stuff to you when you leave to meet her for your date... We are onlock down, we can't go to the store for flowers and soup."
Now onto what Jesse thinks of the remaining guys:
Article continues below advertisement
KASEY: "Singing ??? Ali said it (CHEESEY ) !!! The Look on Ali's face was priceless... She cant even hide that the producers are keeping this guy here at this point just for his drama factor... She wants him gone so bad she can taste it... My advice is if your not gonna sing to a girl everyday when you are dating her don't do it... Be yourself don't do anything you wouldn't normally do... Then he has the balls to say I SNUCK OUT TO GET A TATTOO ??? REALLY BRO - You really snuck out to get a tattoo- camera crew, producers and all WOW... YOU ARE SNEAKY .... WOW I think he forgot 15 million people were gonna watch and analyze or he wouldn't have said that. That was sooooo PRODUCED it wasn't even funny."
ROBERTO: "This guy is very genuine. He's just being himself. That goes a long way especially with the guys. You can't hate a guy for being a rad guy. He's kinda like the Kiptyn Locke of the season. I loved when he said 'You can't describe what these experiences are like in words.' He's totally right and that's why all of us cast members love to get together and compare stories because we can all relate."
Article continues below advertisement
FRANK: "This guy is funny. I love his commentary making fun of the other guys, it's hilarious. He kinda reminds me of my boy Jason Mesnick a little bit. Both very genuine dudes."
VIDEO: Bachelorette Ali Meets Her Men; "Shooter" Explains His Nickname!
KIRK: "WELL DONE MAN! First he let her know it was ok to go to bed early because she was sick then offers to walk her to her room. WELL PLAYED. PS: Again if you are watching it on TV THEN THEY ARE NOT ALONE!!!! There were probably 2 -3 Camera crews in that room with them so probably around 8 -10 people there with them watching the whole thing unravel."
CHRIS L: "This guy is also great dude. I love how family-oriented he is. You can see it when he talks about his mom or dad. Ali even dropped a little hint after talking to his dad on the phone that she said I would love to marry into a family like that. I could see Ali ending up with him. He is like an East Coast version of her life. San Fran is on the water just like Cape Cod. They have a lot in common. I could see them ending up together. Nice work on the rose buddy."
Article continues below advertisement
WEATHERMAN: "Loved the shot of you watching Ali and Craig R on their 1 on 1 time. Then you butted in and didn't even follow through with the steal? Dude Again Confidence is KEY... SUNNY SKIES Are in your future bro JUST DO YOU. Can't wait to see your Bachelor pad bro. Good luck.
"NEXT WEEK ICELAND."