Death Weather's Sea Of Cowards Perfectly Flawed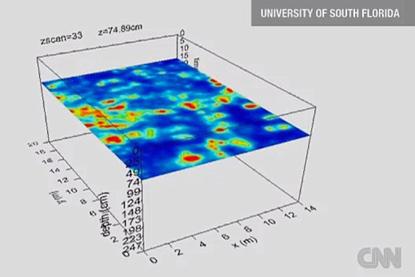 There is a violent interplay between Jack White and Alison Mosshart that forms the backbone of Sea of Cowards, the latest from The Dead Weather. Mosshart's powerful vocals and White's living-legend guitar playing seem locked in combat at times while simultaneously meshing into riotous anarchy.
WARNING: Fans of The White Stripes and Raconteurs may skip this paragraph and proceed deeper into the review. Now that they're gone here's the harsh truth. This band is too good to be a side project. Yes, that's testimony to the underappreciated White's skills, but if forced to choose one band to record with permanently, White should pick the Dead Weather. Sea of Cowards is often sloppy and disjointed and seems rushed. But at their best White and Mosshart create a Joplin-meets-Hendrix dynamic that is simply too good to be relegated to recording infrequently.
Article continues below advertisement
Welcome back White Stripes and Raconteurs fans; as we were saying White is arguably the engine of modern rock and roll and Sea of Cowards features plenty of his driving, outrageous guitar. Mosshart's vocals are more than a foil; they propel this album to its greatest moments.
Dean Fertita from Queens of the Stone Age and Raconetuers' bass player Jack Lawrence fill out the all-star lineup and add layers of sound richer than Dead Weather's first album Horehound.
And Mosshart is clearly more comfortable here. "I'm not the way that you found me/I'm neither here nor there/One day I'm happy and healthy/Next I ain't doing so well," she sings with gritty realism on "The Difference Between Us", the album's best track. White's psychedelic riffs push Mosshart to a level she's never achieved with The Kills. The implied female-dominant sexual violence of the song explodes on all levels. Mosshart is scarily perfect singing, "You can cry like a baby/just let me do what I need to" and White adds a little U2-New Years Day-inspired drumming to accompany his acid guitar.
Article continues below advertisement
The closest Mosshart and White come to a vocal duet is on the single "Die By The Drop." But it's not so much a duet as it is alternating verses. Still, when Mosshart sings "Some people die just a little/some people die by the drop" and White echoes her every sentence while his guitar runs wild, you'll be challenged to find a better rock and roll track of the past few years.
Too bad not every song achieves this level. Sea of Cowards is a deeply flawed album with some tracks that should have been left in the studio (particularly the closer Old Mary, and yeah, we get it) plus other songs that deserved more attention.
Sure it's White's party and he can dominate the opening with "Blue Blood Blues" but his vocals don't do much to establish this as a must-listen. But then there's that guitar. Every time you think you don't appreciate a track, listen to it again and you'll hear guitar playing that is ingenious for inventiveness as well as its tributary acknowledgments to rock and blues legends.
(There's more than one Jimmy Page lick to be found and don't think you're having a flashback if you hear Houses of the Holy.)
Article continues below advertisement
In the movie "It Might Get Loud," before White meets U2's Edge and Led Zep's Page he jokes he's going to lure them into showing him their tricks so he can steal them. White clearly doesn't need to steal anyone's style but on Sea of Cowards he bends the music that influenced him and makes it his own. At times, the CD is a musical Rorschach test; prime example: the high-hat drumming on "Hustle and Cuss" triggers memories of Stevie Wonder's Too High from Innervisions..
"Hustle and Cuss" is one of many cuts with nonsensical or below par lyrics, a fact somewhat mitigated by the overall feel that vocals are often simply used as another weapon to keep the musical riot going.
Yet, in many years of rock and roll who has found the right pharmaceutical combination that allows them to understand or impart any meaning to the lyrics "and we hustle and cuss, lick on the dust. Must you muscle and fuss?" (And, hey kids, don't try to solve the riddle either.) But with Mosshart's power vocals perfectly on top of and then yielding to White's guitar, it's not the words that provide the feel.
Article continues below advertisement
"I'm Mad" is a vocally self indulgent track for White but a Led Zeppelin guitar lead comes out of nowhere in the middle of the song and a few chords later White channels early Hendrix with a style of playing that few even attempt anymore. And far from imitation it's raucous and original, so powerful that you forgive his vocal egotism.
The album is cut with instrumental and vocal violence and when Mosshart says: "I don't want a sweetheart/I want a machine," on Gasoline you believe her. And Jack's guitar makes you believe her. It's that rare violent and paradoxical partnership between Mosshart and White that defines Sea Of Cowards' best moments.
"No Horse", "Looking At The Invisible Man" and "Jawbreaker" stay true to this electric-fueled uprising and are worth several listens. In some ways they represent the strengths and weaknesses of the overall effort, tracks that are deeply flawed overall but feature sublime bursts of vocal and guitar inventiveness.
With Sea of Cowards there are two things you must do to fully appreciate the music. The first is listen to it several times. And the second is get a good set of headphones and turn it up, way, way up. You'll find that Mosshart and White are a rock combination worthy of a little tinnitus.