More Idol Finalists Chosen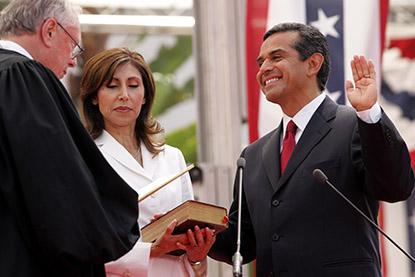 "Out there" comedian Nick Mitchell and his oddball alter ego Norman Gentle was one of nine semifinalists who failed to make the grade on American Idol Thursday night.
But three contestants did make it through to the next round: 16-year-old high Los Angeles school student Allison Iraheta; 23-year-old University of Central Arkansas student Kris Allen, and 26-year-old Los Angeles actor Adam Lambert.
The judges felt that Lambert scored with his version of the Rolling Stones' "Satisfaction," while Allen got a so-so reaction with a take on Michael Jackson "Man in the Mirror." Everyone liked Iraheta's scorching interpretation of Heart's "Alone."
Article continues below advertisement
These three finalists join 28-year-old Milwaukee church music director Danny Gokey, 21-year-old Memphis musician Alexis Grace, and 27-year-old Texas oil rig worker Michael Sarver who made the last week.
Next Tuesday, another dozen semifinalists will sing for three spots in the competition's top 12.
Mitchell and his fellow losers will get another turn at bat when the judges -- not the viewers -- pick the last three finalists in a special wild card round.