Heather Dubrow Confesses Young Kids Can Get Plastic Surgery After Kylie Jenner Diss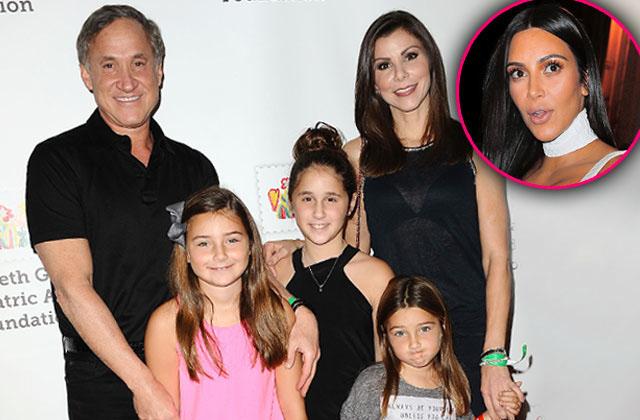 Heather and Terry Dubrow are critical of the Kardashian family's plastic surgery, but that isn't stopping them from letting their kids have work done!
The RHOC couple revealed to Bravo that if their kids asked for plastic surgery, they'd happily consider it!
"I think our kids are very comfortable in their own skin, and because Terry's a plastic surgeon and because we have a very open dialogue with our kids about all kinds of things and their bodies that it's just very OK for them to talk about," Heather, 47, admitted.
Article continues below advertisement
"And that if someday one of them felt bad about something and wanted to have that conversation with us, we'd totally be open to it," she confirmed.
"I think what's great about our family and how we talk about things, especially because Terry's the Botched doctor, is that the risks and the problems that happen with surgery are a very common conversation in our house," she explained. "But they're probably just scared sh**less."
But Terry, 58, is more hesitant to let Nicholas, 12, Maximillia, 12, Katarina, 10, and Collette, 5, go under the knife.
"Let's say that my daughter doesn't develop her breasts normally," he explained. "She wants to have a breast augmentation at 17. I'm gonna say, 'Absolutely not.' And she's gonna look at me — and it sort of reminds me of your parents that did drugs in the '60s and now you're doing a little bit of experimentation in high school and they're saying, 'That's terrible,' when you knew they did drugs in the '60s."
Article continues below advertisement
"My point is my daughter will look at me and go, 'Dad, uh, this is built by plastic surgery. What are you talking about?'" he admitted.
Heather later recanted her statement, saying, "For me, as a mom, I think that if you have to have a parent sign off on a procedure till age 18, that, to me, is an indication that they're still a child. So if it's not a necessary procedure, I wouldn't personally want my child to have it."
RadarOnline.com previously reported that their daughter had been discussing lip augmentations with her parents after noticing Kylie Jenner's enhanced face.
"It's a scary time," Terry said at the time, while Heather chose to focus on the infamous Kardashian behind.
"What are those butts going to look like in 20 years?" she dissed.
We pay for juicy info! Do you have a story for RadarOnline.com? Email us at tips@radaronline.com, or call us at (866) ON-RADAR (667-2327) any time, day or night.