'Sister Wives' Star Robyn Insults Meri To Friends In Private Messages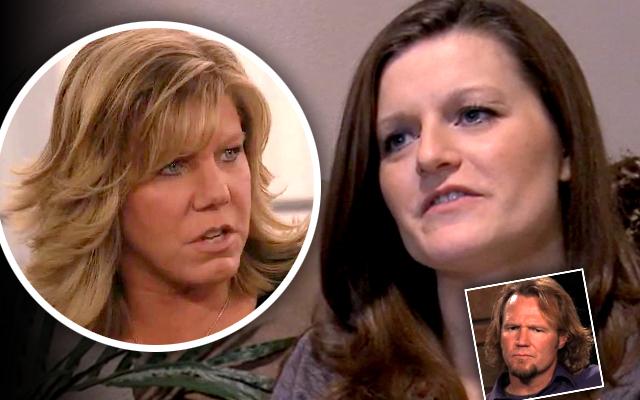 Sister Wives stars Robyn and Meri Brown may seem like close friends in front of the cameras, but in reality, they can't stand each other --- and Robyn has been slamming Meri behind her back!
Robyn and Meri are both involved in a plural marriage with husband Kody and two other wives. On their hit TLC reality show, they portray the image of supportive sisters, but Facebook messages between Robyn and a friend paint a much different picture of their relationship. Life & Style reports that the message thread is riddled with instances where Robyn calls Meri a b*tch. She also says that she is "tired of her crap," and that she makes them "all look like idiots." Even as Meri struggled to conceive another child with Kody, Robyn publicly offered to be a surrogate, while privately writing that "Meri is too big of a b*tch to want to have another child." To make matters worse, Robyn even alleged that Kody did not want another child with Meri.
Article continues below advertisement
According to a source, the animosity between them is nothing new. "Robyn's camaraderie with Meri has always just been for the show. They've never really gotten along."
The drama started when Kody legally divorced Meri in order to marry Robyn --- an event that sent her into an emotional tailspin. Sources reveal that since Robyn's arrival Kody has shown her unbridled favoritism at the expense of his other three wives. "Robyn is the queen," an insider told Life & Style. "Kody spends all of his time with her. If it's another wife's house date, he'll go over at midnight and be back with Robyn by 6 a.m." Lonely and ignored, Meri is reportedly only seen by Kody as a friend. "Kody's behavior is unacceptable," the insider said. "He's supposed to love and honor each wife."
Meri's loneliness eventually led to her seeking fulfillment outside of her relationship with Kody. As RadarOnline.com reported, Meri recently admitted that she'd had an emotional affair with a person that she met online, only to discover that the man she had been communicating with was actually a woman --- she'd been catfished. What's more, Robyn knew that Meri was being deceived, but instead of intervening, "Robyn let it play out to see where it went," an insider revealed.
But while the family feigns forgiveness publicly, behind closed doors they have shunned Meri. Kody and the wives "have turned their backs on her," a source revealed. Now, insiders suggest that Robyn may have been planning Meri's downfall the entire time. "When Meri agreed to divorce Kody, Robyn knew in the back of her head this could very well be the end of Meri," a source said. After everything that has happened, Meri's days on the show may be numbered now that the world has seen that their big love is a big lie. In the wake of all of the scandals and exposed secrets, the source concludes, "they can't pretend they're this big happy family anymore."