Simon Barney Slams 'Not-So-Classy' Ex Tamra For 'RHOC' Sex Scenes & 'Trash Talking' – Read His Statement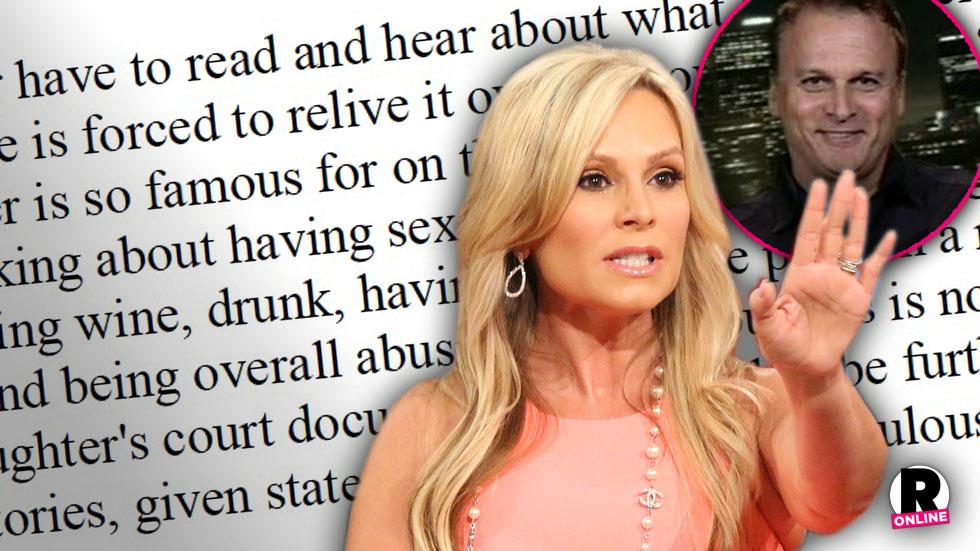 Look out Tamra Judge – ex husband Simon Barney is taking a stand!
The Real Housewives of Orange County star may be shocked to find that her former spouse – whom she relinquished sole custody of daughter Sidney to – has come forward to address the reality star's "slanderous accusations."
"I have always tried to keep quiet and take the high road," Barney's official statement reads. "Unfortunately the latest barrage of negative press has warranted some kind of statement. My statement is to set the record straight with facts, truths, not fabrications and accusations."
Article continues below advertisement
In defense of his daughter Sidney, Barney reminds readers that his ex's contempt order court filing this summer was denied when an Orange County judge didn't find any proof of parental alienation.
To further prove his innocence in the matter, Barney lists instances in which Judge behaved inappropriately on RHOC.
"Not only does my daughter have to read and hear about what her mother says about her father on the internet and various talk-shows, she is forced to relive it over and over from her 'friends and classmates,'" the statement reads.
"The not so classy moments her mother is so famous for on the show which she is a main cast member, i.e., bathtub scene, talking about anal sex, talking about having sex with her husband, being topless, grabbing other women's body parts, trash talking, throwing wine, drunk, having her private parts in a man's face, having a male stripper's private parts in her face and being overall abusive," Barney continues.
Meanwhile, Judge has been busy slamming Barney on Twitter.
However, the reality star has also included a "mea culpa" or two for her behavior -- and bathtub scene with current husband Eddie -- on RHOC.
Now that Simon is back to slam-dunking his ex, will Tamra fight back? Who will win this epic battle? Let us know what you think in the comments below!