Sarah Palin's Son Back In Court With Ex-Wife After His Arrest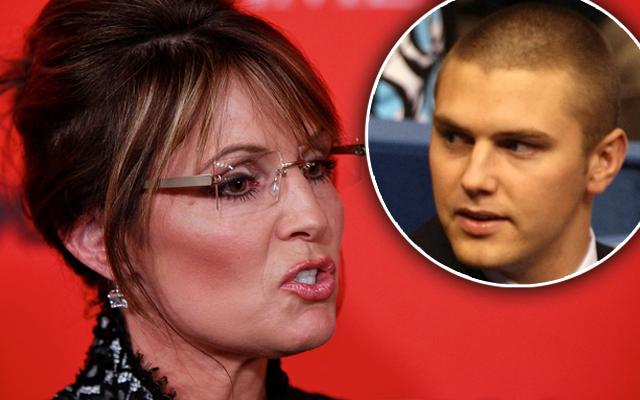 Sarah Palin's son, Track, is having a bad year! Two months after his domestic violence arrest, RadarOnline.com has exclusively learned that his ex-wife took him to court to cut down on his custody away of their daughter.
Britta Hanson, who married the former Governor's son in 2011 and divorced him a year later, filed documents for custody modification in Alaska on February 6, 2016, just days after his January 18 arrest. She requested that her husband have no overnight visits and only see their daughter, Kyla Grace, 4, four days a month, according to court documents obtained exclusively by Radar.
Article continues below advertisement
The couple's previous arrangement had "no set visitation," but Hanson has established the following strict new guidelines.
"In order to accommodate father's employment schedule, he will have a rotating schedule every four weeks," the documents state.
The first week, he has their daughter on Saturday, from 9am to 6pm, and Sunday, from 9am to 3pm.
The second week, Track has Kyla Grace on Friday, from 7:30am to 7pm, and on Saturday, from 9am to 6pm.
"Weeks three and four Father will have no visitation," the documents state. "Father will have no overnight visitation."
Both Track and Hanson signed the custody modification on February 6, 2016.
Radar broke the news of Track's arrest to Hanson in January. At the time, she said she "had no idea it happened."
He was charged with assault in the fourth degree and recklessly injuring, interfering with the report of a domestic violence crime, and possession of a firearm while intoxicated. The case was recently continued to April.
Hanson explained to Radar in January that she and her ex were not friendly but did communicate about their daughter. "We are on speaking terms," she said. "We have a cordial relationship about our daughter. That is as far as it goes."
Track's sister, Bristol Palin, also was just giving a crushing ruling in her own custody battle with Dakota Myers, who was given joint custody of their daughter, Sailor.