Sex Change Bombshell: Richard Simmons Is Secretly Living As A Woman!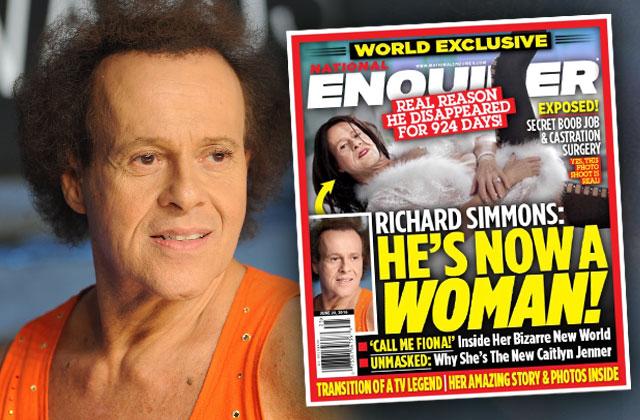 Move over, Caitlyn Jenner. RadarOnline.com has learned that Richard Simmons is the latest Hollywood star to secretly undergo a sex change!
The National ENQUIRER broke the explosive news today with a jaw-dropping cover story that features never-before-seen photos of Simmons living as his female identity, Fiona.
The incredible pictures of Simmons, 67, with flowing brunette locks and womanly curves are photoshop-free. And a friend of the exercise guru insisted, "This is not just Richard Simmons in drag. This is Richard dressed as a softly spoken woman named Fiona!"
Article continues below advertisement
Like Jenner, Simmons has opted for breast implant surgery, hormone therapy, and a host of other invasive changes to create the transformation, The ENQUIRER reported. And while he's yet to make a public announcement, the magazine said he's secretly been venturing out of his Hollywood Hills home dressed as a woman for months.
RadarOnline.com exclusively reported in March that Simmons had begun dressing as a female on occasion.