Tough Love! Lisa Vanderpump Breaks Silence On Troubled Kim Richards' Relapse & Firing: 'Real Housewives' Shouldn't Be A Reason To Drink'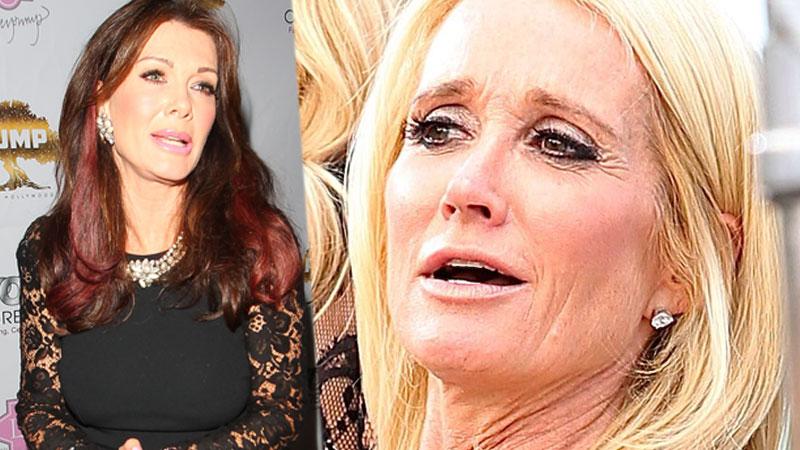 Lisa Vanderpump and Kim Richards have had more than their fair share of fallouts during the past few seasons of Real Housewives of Beverly Hills. But now that Richards has been fired from the Bravo hit after yet another drugs and alcohol relapse, Vanderpump has a few final words for her former castmate.
"A reality show should document your reality," Vanderpump exclusively told RadarOnline.com at Real Housewives of Miami star Lea Black's Red Carpets & White Lies book launch party at Pump Lounge in West Hollywood on Thursday.
Article continues below advertisement
"It shouldn't be the reason you drink and the show should not be what keeps you sober."
In an interview with Dr. Phil McGraw in April, Richards claimed that the stress from the series' social media critics pushed her over the edge and off the wagon.
Though Vanderpump has butt heads with Richards in years past, she largely stayed out of the former child star's troubles this time around.
"I chose to stay out of the whole scenario this season because I was already in that whole situation two years ago when I questioned Kim's sobriety," she explained. "I didn't want to go there again."
A lesson to learn from Richards' downward spiral, Vanderpump suggested, is not to keep secrets from the cameras.
"If you are going to sign up for a reality show, be completely honest. If not it is going to come back and bite you in the ass!"said Vanderpump, who has been busy building an empire with longtime husband Ken Todd that includes their three restaurants, a new line of pet products called Vanderpump Pets and a home accessory line called Pop Culture Living.
"Most importantly is that Kim gets the help she needs," she concluded."I wish her well. That is all I want for her and all that the cast wants as well."