Fighting Words! Kenya Rips Porsha: 'You Don't Know What You're Saying'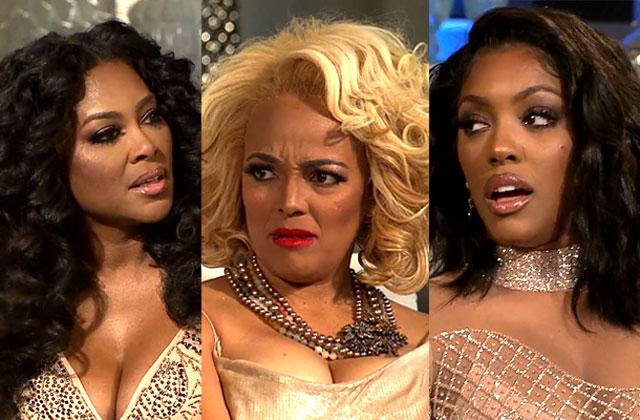 It's been a rough season on the set of Real Housewives of Atlanta, but during the reunion, all of the drama comes crashing down around the women!
In a preview for the explosive get together, the problems begin when NeNe Leakes, 48, starts hating on Kim Fields, 46.
"Honestly, I do not think that Kim is a fit for this group of girls," she told Andy Cohen, 47.
Leakes then directs her attention to Porsha Williams, 34.
Article continues below advertisement
"You can not put your hands on anybody else," she warned.
But Williams is prepared with a snarky rebuttal. "Did you choke somebody?" Williams replied.
The backlash then heads in Kenya Moore's direction.
During the group trip to Jamaica, Moore, 45, shared rumors about Kim Fields' husband Christopher Morgan being gay and said that people used to call him "Chrissy."
Well during the reunion, Morgan finally confronts Moore about the rumors.
"Kenya, who are our mutual friends that call me 'Chrissy?'" he asked.
Moore answered that he should "Google" himself to find out the answer.
Upon demanding a response again from Moore, Moore's boyfriend Matt Jordan shuts Morgan down.
"She just answered your question," he stated. "I'm talking directly to you, son."
Then Moore goes after her frienemy Williams.
"You need to shut your mouth, Porsha," she said. "If it's not a d*** in it, you don't even know what you are saying."
Article continues below advertisement
Williams then lectures Cynthia Bailey, 48, about the speculation that has been going around all season that Bailey's husband Peter Thomas has been cheating on her.
"It's all over Atlanta, girl, about Peter and his women," she said. "Welcome to any girl that is 19 years old."
Finally, Fields freaks out on Moore.
"You don't get to keep interrupting people," she shouted.
"I'm not your child," Moore screamed back.
Tune in for the finale of Atlanta on Sunday at 8 PM ET on Bravo.