Porsha Reveals The Truth About Cynthia Bailey's Crumbling Marriage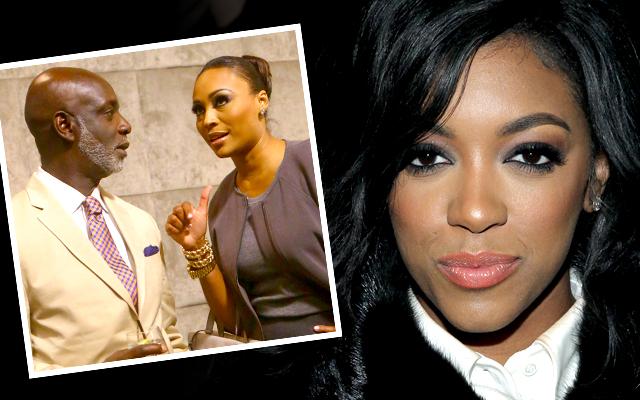 In the first episode of the new season of Real Housewives of Atlanta, Cynthia Bailey found out about an internet video which revealed her husband Peter Thomas flirting with another woman at a bar.
She then admitted to not being attracted to her husband even though she was annoyed that he was traveling so much to Charlotte, N.C. to open a new Bar One location.
But in the middle of their marriage crisis, Porsha Williams revealed to RadarOnline.com what REALLY is going on between Bailey and Thomas.
Article continues below advertisement
Despite rumors that Bailey is going to file for divorced, Williams is convinced that is far from the truth.
"They both really do love each other and really do want to work it out," she told Radar. "I think that's what they both want."
It's no secret that Williams has had her own fair share of drama with Bailey and Thomas over the years.
"Cynthia and Peter haven't always been my best friends because they kind of delved and got really involved in my personal relationship as they both did with Phaedra's personal relationship," Williams said. "So I haven't been really close to her to be like that person who she confides in."
But putting their own personal wishes aside, Williams did give Bailey a piece of advice.
"I have told her before, 'Over anything, work it out," she said. "A marriage is worth it. You love that person and you are going have those months in a row, but try to work it out."
Williams also thought, though, that Bailey has to do what's right for her.
"It's got to be worked out in way that's still going to be good for you," Williams said. "You don't want be naïve in a situation with anybody, so you have to stand up for yourself and take those blinders off and deal with the issue."
Article continues below advertisement
But if they can get past the cheating allegations, then Williams felt like staying married is the best option for the couple.
"I've been through a divorce—I'm not saying I'm necessarily head over heels for my ex, but I don't wish it on anybody," she said. "I don't care if you feel like he's your worst enemy or she's your worst enemy. I just feel like marriage is worth it."
"I've definitely wished them well," she added.
Now that Williams has gone through her own divorce, she is in the process of focusing on her new life, which includes her getting ready to launch her own Naked Lingerie line and working on her Go Naked Hair line.