Levi Johnston Blasts Bitter $100K Custody Battle Over Son Tripp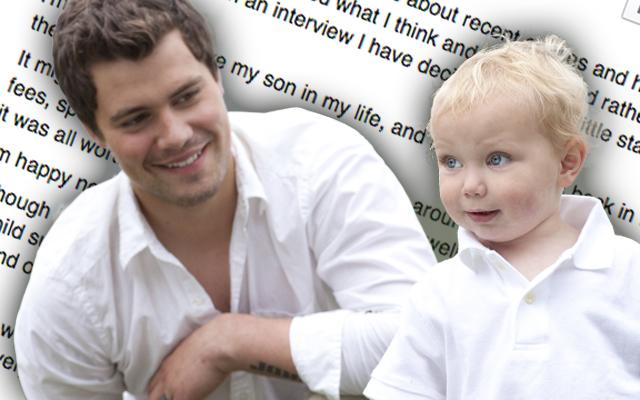 Levi Johnston is speaking out about his bitter custody fight over Tripp, his 7-year-old son with his ex, Bristol Palin.
"I'm so happy to have my son in my life, and to put all of this back and forth in the courts behind me," Johnston gushed in a statement he posted to Facebook on Feb. 23.
"It might have taken me 7 years and cost me around $100,000 in lawyer fees, spread out among 3 different lawyers, as well as a lot of patience, but it was all worth it," said the 25-year-old dad. "I'm happy now to be successfully co-parenting."
Article continues below advertisement
Johnston's estranged ex, Palin, 25, is in the midst of another baby daddy custody battle with her former fiancé, 27-year-old Dakota Meyer, who recently claimed in court that he is the father of her 2-month-old daughter, Sailor Grace.
As for Johnston, he insisted on Facebook that he has, for the most part, fulfilled his duties as a dad — and looks forward to continuing to build their father-son relationship.
"Although I do owe some back child support, altogether I have paid $50,000 in child support for Tripp, which is $600 a month, since Tripp's birth so at the end of the day I know I have worked hard to meet my obligations as a father," he wrote.
As RadarOnline.com reported, Palin recently filed a motion asking a judge to get Johnston, 25, to pay up roughly $66,000 in back child support payments. But according to new court documents filed on February 11, a judge denied her motion.
"Despite what some have heard I've always been there for him, and I go to almost every school event that I can and spend all of my free time with my kids," noted Johnston. "Right now life is really looking up for our family."
"And I want to say that even though fathers in this country don't usually have the upper hand in court, I encourage every father to never give up on fighting to keep their kids in their life," he added. "It's always worth it."