Exclusive
Deadly Dog! Kim Richards' Pit Bull 'Will Kill Someone,' 'Terrified' Bite Victim Claims — Should Kingsley Be Put Down?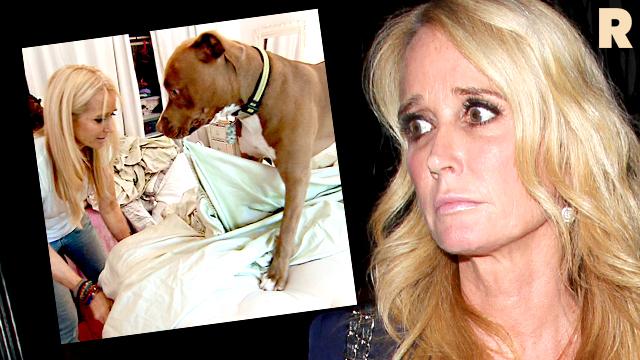 Kim Richards dog Kingsley is still living at the Real Housewives of Beverly Hills reality star's home — even though a court awarded monetary damages to Kay Rozario after the 80-year-old filed a lawsuit following a vicious attack by the out-of-control animal.
Now, Rozario, who is filing an appeal in the case against the housewife after being granted a default judgment that was much lower than the $1 million that she sought, fears something terrible could happen if nothing is done about the problem pooch.
Article continues below advertisement
In fact, Rozario tells RadarOnline.com exclusively that she is "terrified that the pit bull will kill someone."
Rozario, once described as being like a "second mother" to Richards, insists that's the reason why her recent court case was "never about the money."
"If this was about the money I would have sued her right away after the attack," she explains to Radar. "It is about the principle."
"I have always know that Kim does not have any money," Rozario adds.
As Radar reported, Rozario sustained life-threatening injuries when she was staying as a guest at Richards' Beverly Hills home last year. Her injuries were so severe that they required multiple stitches and painful physical therapy.
"That dog is a killer and ," Rozario blasts. "But I am well off. Kim has nothing. She is bankrupt. I have always known Kim does not have any money."
Do you think that Kingsley should be put to sleep, or is there a better solution? Tell us your thoughts in the comments below.