Exclusive
Bought Or Earned? 'Jealous' Kim Kardashian Gains 3M Instagram Followers Nearly Overnight — After Sis Kendall Jenner Gets More Likes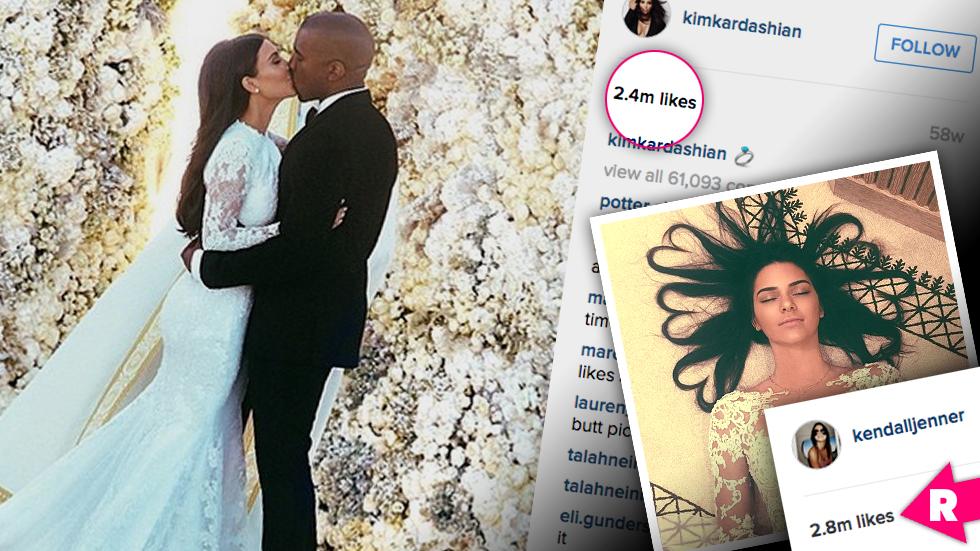 Keeping up with the Kardashians is always a daunting task — especially where their social media followers are concerned. Once queen of the internet, Kim Kardashian has seen her status as most-liked threatened by sister Kendall Jenner, and insiders tell RadarOnline.com she'll do anything to get back on top, including buy followers!
Friday morning, the 34-year-old took to her Twitter to share news that she "woke up to over 40 million Instagram followers," which was a jump of roughly 3 million in just over one week.
Article continues below advertisement
But were they bought or earned? Kim came under fire in December when Instagram's purge of fake accounts showed that she had more than 1.3 million fake followers. Buying followers is a common practice for people looking to pump up their tally.
Why would she do it? A source very close to the KUWTK family tells RadarOnline.com, "Kim has been really bothered by the fact that some of her family members, specifically Kendall, are catching up to her in terms of social media followers. She's jealous and she is not having it at all."
On July 1, for example, Kendall showed Kim who the new Instagram queen is by getting more likes on a photo in a single day than Kim and hubby Kanye West's wedding photo. Jenner even posted on her Twitter account, "Take That KimYe!"
Kim's follower bump was swift retribution, but Jenner clearly is not stepping down to her sister so easily: She added an additional 3 million followers on Instagram herself -- going from 29 million followers at the beginning of the month to almost 32 million the day of Kim's record.
Article continues below advertisement
And although this may seem like a normal increase, RadarOnline.com has been keeping track of the entire family's social media following and since the show first aired in 2007, and no one in the entire family has added more than 1 million followers to either Instagram or Twitter in a one-month span.
According to the family insider, "Kim has made it very clear to all of her family that she will never allow any of them to have more followers than she does. Her jealousy is just pathetic."
"But Kim buys anything she wants and her social status is not something that she is ever going to be willing to compromise."