Porn Star Sues: Josh Duggar Gave Me 'PSTD!'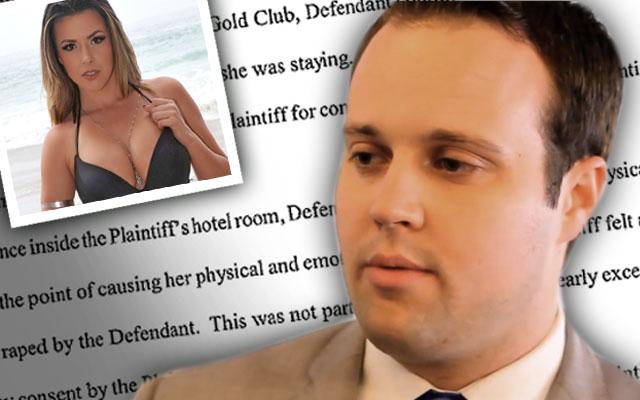 Josh Duggar may finally have to pay for his disgusting behavior.
Adult film actress Danica Dillon, who spoke out in August about her alleged two nights of "terrifying" sex with the admitted porn addict and cheater, has slapped him with a $500,000 lawsuit, RadarOnline.com can reveal. And she even claims he gave her anxiety so bad, it's almost Post-Traumatic Stress Disorder!
In Philadelphia court documents exclusively obtained by Radar, Dillon, who goes by her given name, Ashley Stamm-Northup, when she's off-duty, claims Duggar, 27, "manhandled" and "physically assaulted" her during their first sex romp in a seedy Philadelphia hotel room last March.
Article continues below advertisement
READ THE SHOCKING COURT PAPERS
"Defendant manhandled Plaintiff and physically assaulted her to the point of causing her physical and emotional injuries," the documents state. "Indeed, Plaintiff felt as if she were being raped by the Defendant."
After apologizing for his "tortious battery," Duggar allegedly sexually attacked the 28-year-old porn star again in April, she claims in the court papers, leaving her to "suffer emotional and physical damages."
Seven months later, Dillon says she's still suffering.
"Plaintiff is currently being treated for severe anxiety similar to PTSD by a psychiatrist due to Defendant's violent and outrageous conduct," the papers state. "Further, Plaintiff has been unable to work in her chosen field as a direct consequence of Defendant's actions."
The married mother of two, represented by Philadelphia attorney Mark J. Frumer, is now seeking "in excess of $500,000" in damages, the November 17 documents claim.
Duggar's address is listed as that of his Rockford, Illinois rehab center, Reformer's Unanimous, where he has remained since August.
The fervent Christian Duggar family was hit with their first sex scandal in May, when a previously uncovered police report accused Josh of molesting five minor females, including at least two of his own sisters, as a teen.
Three months later, he was revealed as a member of affair-seeking website Ashley Madison. He confessed to cheating on his wife and the mother of his four children, Anna, and to being "the world's biggest hypocrite."