Josh Duggar Friended Strippers On Secret Facebook Account -- Even More Dirty Details Of His Double Life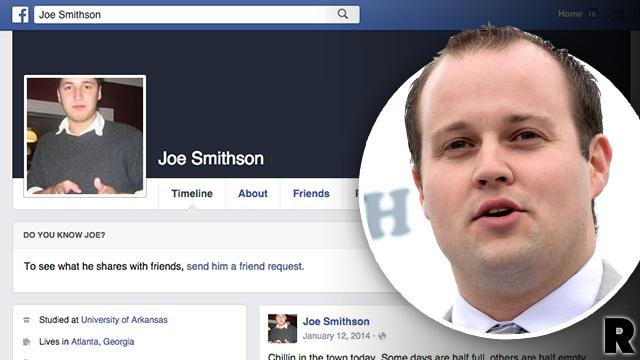 Just hours after Josh Duggar admitted to a porn addiction and cheating on wife Anna for "several years," RadarOnline.com can reveal even more bombshell details of the 19 Kids & Counting star's depraved double life: A Facebook account registered to his email address is friends with local Arkansas strippers and lingerie models.
Josh admitted to signing up for cheaters website Ashley Madison with the email address joesmithsonnwa@gmail.com, and there is a Facebook account registered to that address under the name Joe Smithson.
Article continues below advertisement
According to the profile, "Smithson" was posting on the site as far back as 2004 -- four years before Josh married Anna.
"Smithson" is friends with 32 women, mostly attractive and young, and from the area of Arkansas where he lived before leaving for a political career in Washington, DC.
He's also a follower of a dancer at Sensations Gentleman's Club in Arkansas, a lingerie model, and a curvy blonde blogger.
According to the profile, Smithson was active on the site as recently as January 2014, one year after Duggar began working with the Family Research Council.
The profile claims he lived in Atlanta, but was originally from Birmingham, Alabama and a graduate of the University of Arkansas.
Story developing.