Conjugal Visits, Gay Hookups, & Porn: Joe's Prison Sex Secrets Exposed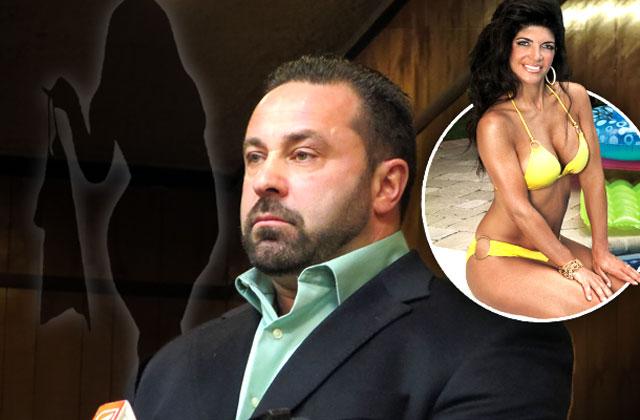 Prison might just be Joe Giudice's worst nightmare.
RadarOnline.com has exclusively learned that the 43-year-old Real Housewives of New Jersey star has to wait 41 long months before he can hookup with his wife Teresa or any other woman… without getting in trouble.
"Conjugal visits are not permitted at the Bureau's institutions," a spokesperson for the Office of Public Affairs at the Federal Correctional Institution in Fort Dix, New Jersey told Radar—where Joe is currently locked up.
Article continues below advertisement
Former Fort Dix inmate and prison expert Earl David confirmed to Radar that conjugal visits are "absolutely forbidden!"
Joe—who was often spotted out with other women while Teresa did her own time—could change his tune, though, behind bars.
According to David, men do have sex with other men in the prison, but it's against the rules.
If the inmates get caught doing the dirty, they get sent to solitary confinement for up to four months, he said.
"When I was there, a guy working in the laundry raped two cho-mos child molesters," David said. "The cho-mos were actually raped, but I did see them again."
David claimed that situations like this took place every few months while he was at Fort Dix.
But what about when Teresa goes to see Joe during visitations?
David said that Fort Dix has cameras and tons of security in the visiting areas, and that it's "impossible" for people to sneak-in hookups.
Article continues below advertisement
"They even caught a guy's girlfriend putting her hand on the guy's area," David said. "He was kicked out of Fort Dix."
So the former inmate warns Joe not to try anything inappropriate in the visiting areas.
"If he's going to do it, I guarantee he's going to get kicked out," David said. "It would be the biggest mistake of his life. Don't even think about it."
Instead, David suggests that Joe try looking at porn.
"Just get a girly magazine," he said. "Stuff like that is against the rules, but they don't really enforce it that much."