Jessa & Jill Duggar Speak In TLC Sex Abuse Special In Aftermath Of Brother Josh's Shocking Molestation Scandal –– 'It Shouldn't Be A Taboo Subject'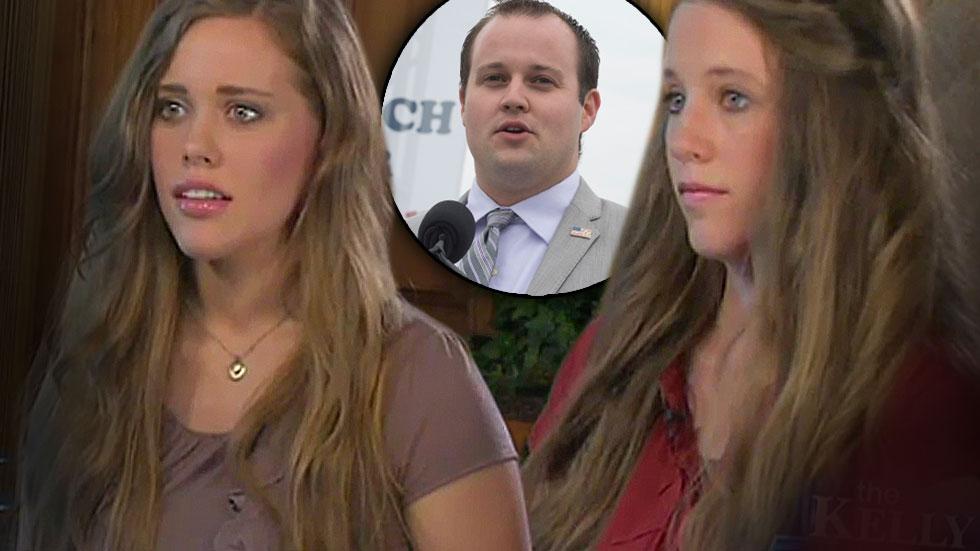 Jessa and Jill Duggar Sunday spoke out in Breaking the Silence, a documentary TLC produced in the wake of their sex addict brother Josh's molestation scandal.
The hourlong special was the byproduct of a seminar presented by a sex abuse awareness organization Darkness to Light.
"I feel like this should be a discussion people are having, even regularly," the 22-year-old Jessa, who is pregnant with her first child, said on the documentary. "I think that it shouldn't be a taboo subject, that we should be bringing awareness to child sexual abuse and talking about this."
Article continues below advertisement
Jessa said that as result of her participation in the seminar, she learned "things I can do to be more aware, things I can do to set up boundaries and safeguards for my child and children, hopefully, in the future."
Other prominent personalities such as Teri Hatcher, Dancing with the Stars' Cheryl Burke and sex abuse awareness advocate Erin Merryn were featured in the informative special.
The 24-year-old Jill observed that "it's amazing to understand that there are so many people that deal with this exact same thing in their own families, so just being educated is very good."
Watch the video on RadarOnline.com
Duggar mom Michelle, 48, said the seminar came as a relief in the wake of a summer full of scandal, that included May's shocking revelation Josh had molested five girls as a teen, leading the network to pull the plug on the family's successful series 19 Kids & Counting in July. Earlier this month, Josh's reputation took another hit he'd cheated on his wife Anna with a porn star-stripper.
"I was so glad that my girls and I were able to do this together," she said, "and that we could just be a support and encouragement to each other to be able to gain more information about this important topic."
As RadarOnline.com previously reported, Jessa and Jill revealed to Fox News that they were two of Josh's molestation victims and had forgiven him.
Impacted viewers were directed to a hotline, 1-800-656-HOPE, and two websites, RAINN.org and TLC.com/BeTheVoice for more info.