Report: Jennifer Aniston Coldheartedly Snubs Her Ailing Mom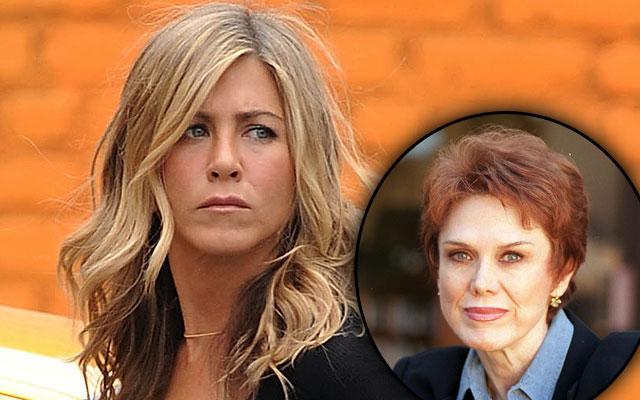 Jennifer Aniston is leading a charmed life, but her estranged mom, who she refuses to see, is so sick that "it's just a matter of time before she passes," claimed an insider to In Touch.
Nancy Dow, 79, was reportedly spotted looking frail as her caretaker pushed her into the Lakeside Community Healthcare center on March 16.
"She looked to be in pain," an onlooker told In Touch. "Nancy was so weak that she had to be lifted out of the car and placed into a wheelchair. It was such a sad sight."
Article continues below advertisement
Despite Dow's frail condition —she reportedly has had a series of strokes — insiders claimed her famous daughter, who lives in a mansion not far from Dow's cramped North Hollywood apartment, wants nothing to do with her.
Despite their proximity to each other, Aniston, 47, gave up regular contact with ailing Dow after she dished on their relationship in her 1999 tell-all, From Mother and Daughter to Friends: A Memoir.
"Jen never calls, never checks in. It seems like for Jen, her mother doesn't exist," an insider told the publication. "Nancy will probably die without seeing her daughter again. And I can tell you this, I know she'll die with a broken heart."
One of the last times Aniston spent any substantial time with her mom was during a visit following a near-fatal stroke Dow suffered in 2011.
Now, "Nancy just wants to see her one last time," noted the insider. "She doesn't want any special treatment or money. She just wants Jen to realize that you only get one mother. Time is running out for that to happen."