Marriage Meltdown: Jay Z Album Exposes Cheating, Baby Secrets & Elevator Brawl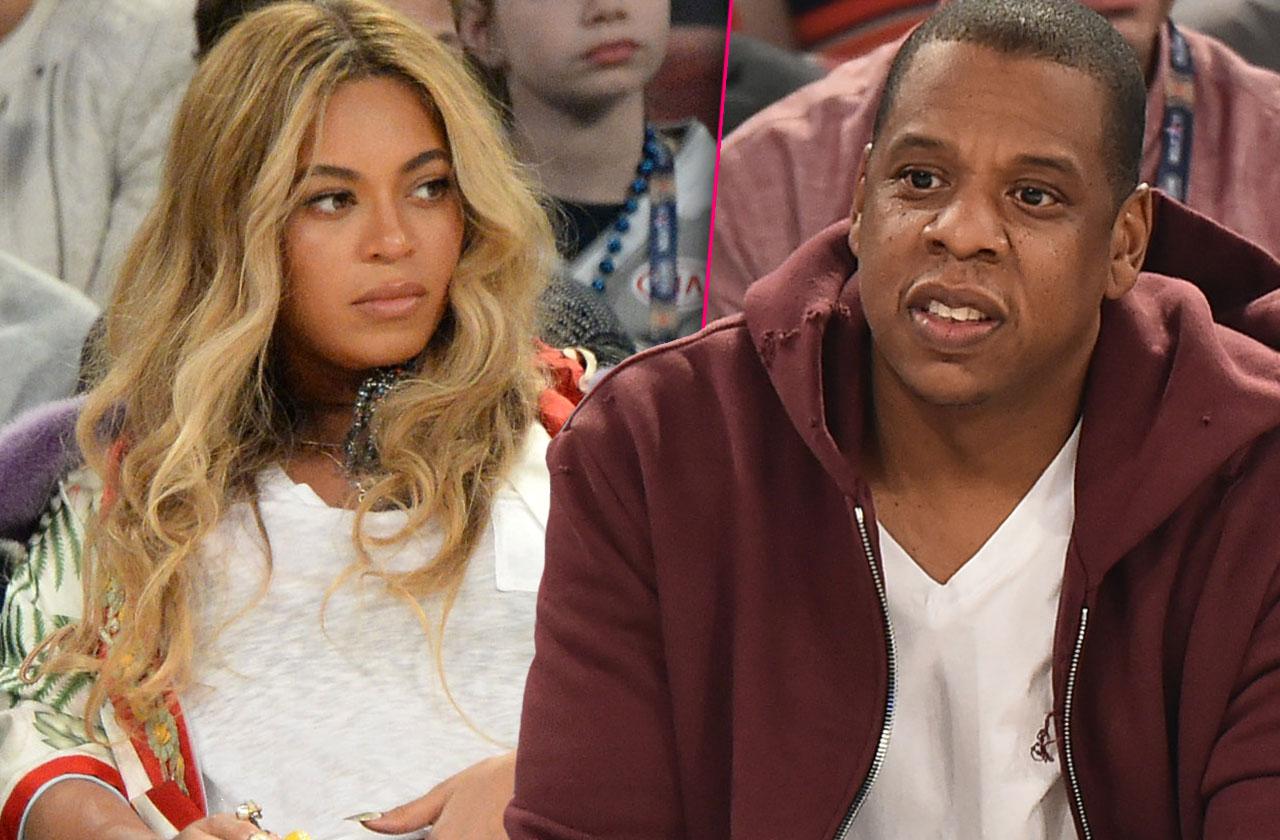 Jay Z released a juicy new album Thursday night, revealing shocking details of his marriage to Beyonce — and possible responses to the singer's infamous Lemonade record.
Three songs on the album, including title track "4:44," seem to address the rapper's past infidelity with explosive lyrics like: "And if my children knew, I don't even know what I would do / If they ain't look at me the same / I would prolly die with all the shame. 'You did what with who?' / What good is a ménage à trois when you have a soulmate? / 'You risked that for Blue?'"
Article continues below advertisement
The chorus confesses: "I'm never gonna treat you, never gonna treat you like I should."
In another portion of the song, Jay Z seems to apologize for his absence throughout his marriage to Queen Bey.
"I apologize for all the stillborns/ Cause I wasn't present, your body wouldn't accept it," he raps, adding, "I never wanted another woman to know / Something about me that you didn't know / I promised, I cried, I couldn't hold / I suck at love, I think I need a do-over / I will be emotionally available if I invited you over / I stew over what if you over my s**t?"
"I apologize, often womanize / Took for my child to be born to see through a woman's eyes," Jay-Z spits in the song's first verse. "Took for these natural twins to believe in miracles / Took me too long for this song."
But Jay Z's marriage and children weren't the only subject matter that were fair game on the album. The rapper also points to his infamous elevator fight with sister-in-law Solange Knowles at the Met Gala in 2014.
Article continues below advertisement
"You egged Solange on knowin' all along / all you had to say you was wrong," he says. "Nobody wins when the family feuds."
Later, he even seems to mention Beyonce's "Becky with the good hair," a reference from last year's Lemonade album.
"Yeah, I'll f**k up a good thing if you let me / Let me alone, Becky / A man that don't take care his family can't be rich."
In an interview with iHeartRadio, Jay Z revealed: "'4:44' is a song that I wrote, and it's the crux of the album, just right in the middle of the album. And I woke up, literally, at 4:44 in the morning, 4:44 AM, to write this song. So it became the title of the album and everything. It's the title track because it's such a powerful song, and I just believe one of the best songs I've ever written."
We pay for juicy info! Do you have a story for RadarOnline.com? Email us at tips@radaronline.com, or call us at (866) ON-RADAR (667-2327) any time, day or night.